Asianet News impact: Woman ambulance driver honoured on Mother's Day for protecting people like Goddess Durga
A woman ambulance driver was honoured by Uttar Dinajpur District administration in West Bengal on Mother's Day 2020 for her tireless efforts in attending to patients in need. The district health officials even compared her with Goddess Durga.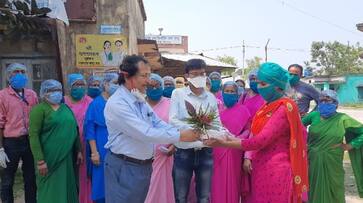 Kolkata: People across the world celebrated Mother's Day 2020 on Sunday (May 10). In a bid to express gratitude towards a woman ambulance driver in West Bengal, chief health officer of Uttar Dinajpur district honoured Selina Begum with flowers and sweets.
Though not a mother till now, Selina has been no less in fighting the battle against deadly coronavirus as a frontline worker. She has been tending to her family as well as patients by ferrying them to nearby hospitals. The district administration recognised her efforts after a news report on Selina was published in Asianet News Bangla.
A resident of Hematabad in North Dinajpur, Selina Begum started as an ambulance driver a couple of years ago when then district magistrate Ayesha Rani took an initiative to empower women of Uttar Dinajpur to be self-sufficient and independent. The magistrate, through government projects, provided ambulances to 15 local women and also trained them to operate it. Selina was one of those 15 women.
Selina comes from a poor family and is the sole breadwinner of the family. She takes care of her old parents and two younger siblings.
Amidst the coronavirus pandemic, many ambulance drivers stopped working due to the fear of contracting the infection. Moreover, the other women drivers who trained with Selina too halted their services. But nothing could deter 28-year-old Selina from doing her job.
She relentlessly works day and night without any fear amid this crisis time. She transports patients from Hematabad to district headquarter Raiganj, at least three to five times a day. Recently, she even ferried two COVID-19 suspected persons to a quarantine centre and this piece of news was published in Asianet News Bangla.
On Sunday, when the world observed Mother's Day, Selina also received recognition by Rabindranath Pradhan, the Uttar Dinajpur district health officer at the Hematabad Block Health Centre.
"I learnt about Selina through Asianet News Bangla's report. Like Durga Ma (Goddess Durga), she continues to protect the people with ten hands during this pandemic. It is us, who are truly honoured for being able to honour her', Rabindranath Pradhan said. 
Besides this, corona warrior Selina Begum was encouraged by a private company and given Rs 50,000.  
Last Updated May 12, 2020, 12:12 PM IST