Asianet News Impact: Revenue officials seize cardamom plantation on government land in Idukki
The eviction is due to the encroachment of government land and the cultivation of cardamom in the Anaryirankal-Chinnakanal area of Idukki. Five acres of cardamom cultivation are being evacuated. Action is taken by the task force under the District Collector.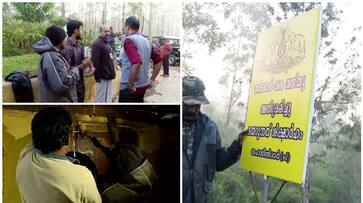 Idukki: A team of revenue officials from the Idukki district began clearing the encroachment on government land at Anaryirankal in Chinnakanal on Thursday (Oct 19) morning. The officials confiscated the five-and-a-half acre cardamom plantation and the building inside the catchment area of Anaryirankal Dam in Chinnakanal village. The encroachment brought out by Asianet News through the series 'Malakayarumo Douthyam' (Climb the Hill Mission) was first captured by the government mission team.
Also read: 4 days since arrival at Vizhinjam port, Chinese ship crew yet to get immigration nod
Immediately after Asianet News' series of investigations on the Munnar encroachment, the task force under the supervision of the Idukki District Collector started to clear the encroachment. On this land, there are also constructions, such as buildings for migrant workers' housing. The 5-acre and 20 cent land was possessed by Adimali native Siju who converted the encroached land into cardamom land. The task team displayed the Kerala government's board on the territory after regaining it as part of the encroachment drive.
After the farm owner received a notice, the eviction effort was started. He attempted to appeal the eviction but was unsuccessful despite moving an appeal before the district collector. The Udumbanchola tehsildar then directed the revenue officials to take measures to evacuate the encroachment. Due to the protests, a sizable police presence was placed in the area.
The government will inform the High Court on the very next day that the steps to take back the Munnar encroachments have started. However, it remains to be seen whether the current diligence of the mission team will be the same when it comes to large-scale encroachments.  
Last Updated Oct 19, 2023, 1:05 PM IST