Asian Games 2023: Anurag Thakur dubs China's visa denial to Arunachal athletes as 'discriminatory' - WATCH
The article discusses Union Minister Anurag Thakur's condemnation of China's denial of visas to Indian athletes from Arunachal Pradesh for the Asian Games, highlighting the diplomatic tensions and discrimination faced by these athletes.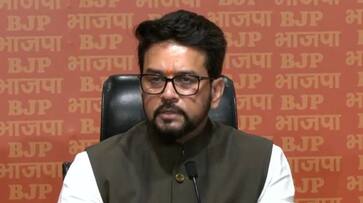 Union Minister Anurag Thakur has strongly condemned China's denial of visas to three Indian athletes hailing from Arunachal Pradesh, labeling it as "discriminatory" and in violation of the Olympic Charter. Despite being cleared by the Hangzhou Asian Games 2023 organizing committee, two athletes, Onilu Tega and Mepung Lamgu, were unable to obtain their accreditation cards, which serve as entry visas to China. A third athlete, Nyeman Wangsu, managed to download the accreditation but was subsequently denied entry into China.
In response to this situation, India's Sports Minister, Thakur, canceled his planned visit to China as a sign of protest. Speaking in Coimbatore, Tamil Nadu, Thakur expressed his strong disapproval, stating, "As you could see I am not in China, I am in Coimbatore, standing with my players. And this discriminatory approach of a country which is against the Olympic Charter, is not acceptable at all."
China's move "is not acceptable to India and I have cancelled my trip to China on these grounds as they have denied the opportunity to the players from Arunachal Pradesh to be a part of the Asian Games," he added.
India has registered a formal protest with China, asserting its right to take "appropriate measures" to safeguard its interests. Arindam Bagchi, the External Affairs Ministry Spokesperson, accused China of deliberately targeting Indian athletes in a manner that violates both the spirit and the letter of the Asian Games, which explicitly prohibits discrimination against competitors from member nations.
Bagchi stated, "The government of India has learned that the Chinese authorities have, in a targeted and premeditated manner, discriminated against some of the Indian sportspersons from the state of Arunachal Pradesh by denying them accreditation and entry to the 19th Asian Games in Hangzhou, China."
He further emphasized India's rejection of differential treatment based on domicile or ethnicity, asserting that Arunachal Pradesh is an integral and inalienable part of India.
This controversy occurs amid a dispute over China releasing a "standard map" that includes Arunachal Pradesh as part of its territory. The map, released last month, shows Aksai Chin and Arunachal Pradesh as part of China's territory, despite India's claims to these regions. India has dismissed this map as having no significance, stating that China has a history of releasing such maps.
Last Updated Sep 24, 2023, 10:27 AM IST