Arvind Kejriwal has the last laugh as Delhi votes him back to power, leaves BJP in single digits
AAP has won in excess of 60 seats out of 70 seats. Arvind Kejriwal will become the CM of Delhi for the third time.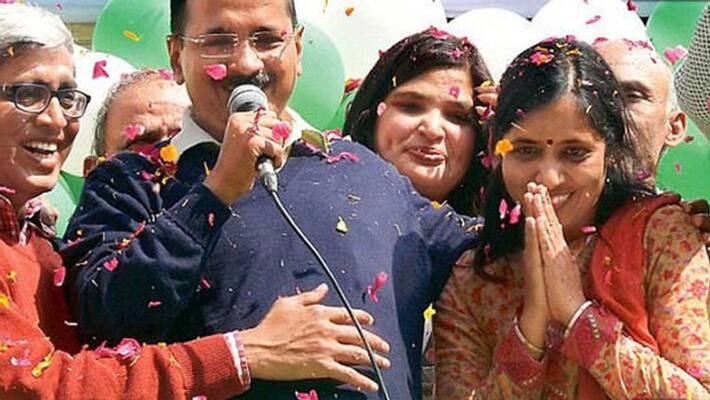 Bengaluru: It's a super day for Delhi as Arvind Kejriwal's AAP has been voted back to power for the third time.
When reports last came in, AAP had won in excess of 60 seats.
Earlier in the day, the BJP – the closest contender – reached figures in excess of 15, at a point even 20, but as the day wore on, the number nosedived to fewer than 10.
By afternoon, when the victory was only a matter of formality, a buoyed Arvind Kejriwal took time to address a gathering and thank the voters for their blessings.
He said, "I thank people of Delhi for reposing their faith in AAP for the third time. This is the victory of the people who consider me as their son and voted for us."
As the day wore on, Kejriwal, his wife and deputy CM Manish Sisodia paid a visit to the Hanuman Mandir in Connaught Place to offer gratitude.
On the other hand, the BJP was humble in its defeat.
JP Nadda, its president said, "BJP accepts the mandate of the people. We will play our role as a constructive opposition & raise public issues in the assembly. I congratulate Arvind Kejriwal, his party and hope that his govt will work for the development of the state."
While the BJP fought hard, the Congress had already resigned to its fate. It was completely decimated for the second successive time. And more embarrassingly, the party also lost deposit in 67 out of 70 seats.
The BJP also lost Shaheen Bagh, the epicentre of anti-CAA protests. AAP's Amanatullah Khan won by over 70,000 votes.
By evening, PM Narendra Modi sent out a congratulatory message to the Delhi CM.
Congratulations to AAP and Shri
@ArvindKejriwal
 Ji for the victory in the Delhi Assembly Elections. Wishing them the very best in fulfilling the aspirations of the people of Delhi.
As of now, the date for Arvind Kejriwal taking oath has not been fixed.
Last Updated Feb 11, 2020, 7:30 PM IST