'7 jawans martyred, Maha CM's wife was dancing': Sanjay Nirupam
The real beneficiary of new currency dancing with Big B, says Sanjay Nirupam
Why can't a Chief Minister's wife pursue her hobby?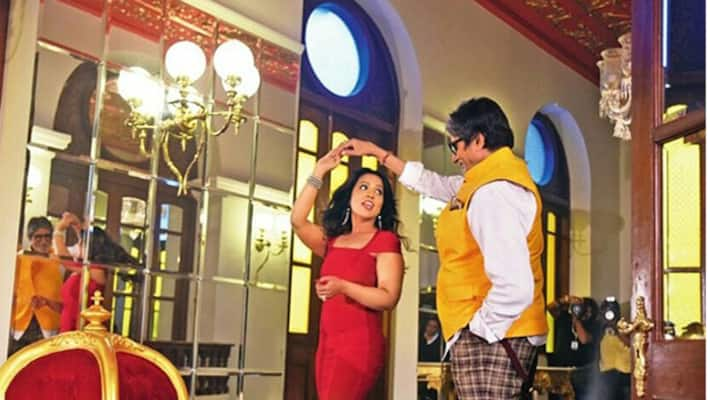 "80ppl have died due to #notebandi. The real beneficiary of new currency dancing with Big B. Did u both PM and CM notice?" read Mumbai Congress chief Sanjay Nirupam's tweet.
"We have no objection to a person pursuing hobbies. But as the wife of the CM you are expected to be more sensitive. Yesterday when she was singing and dancing for this shoot, 7 jawans got martyred. People are dying in bank queues. Shouldn't the wife of CM be more sensitive?? How can she just be so indifferent," said Nirupam further in an interview to India Today.
One question to Mr Nirupam: Aren't you making a mountain out of a molehill? Associating someone's career with soldiers dying and demonetisation, is that what you want to use to be seen and heard? Previously we saw the Congress Party distanced itself from Nirupam on his suggestion that the 'army's surgical strikes could be "fake"'. So how seriously his words are taken is already reflected in his party's reaction.
What an easy way of dismissing Amruta Fadnavis's achievements? Why can't a Chief Minister's wife act? Does she have to consult a schedule, keep a track of the current affairs and then proceed with her life? Mr Nirupam is in politics and she is not, she is married to a politician and best of all, unlike most politicians' wives, Amruta chooses to have a life of her own.
A glance at her Twitter feed reveals, the numerous roles, Amruta juggles, - Banker, Playback Singer, Social Worker, Homemaker.. and now actor. Well, if the woman is talented she will go places, money and power can only get you so far, the real skill is proving your talent, which we can leave time to tell.
 
While it is perfectly fine for Mr Nirupam to have an opinion, it is equating the death of soldiers and demonetisation to a person's career. "How can she just be so indifferent?", he asked. Is doing one's job being indifferent? Well, then should we expect that when the '7 jawans got martyred' Mr Nirupam was at the border with them? Or maybe praying for their welfare behind his wooden desk. Wasn't he also working? So why does Amruta, a wife of a politician, have to answer this question?
The woman is an individual who refused the cushy comfort and perks her husband's position brings and is working as a banker. She has used her own networking skills and is a philanthropist and her singing skills led her to bag two songs in the films Jai Gangajal by Prakash Jha and Kunal Kohli's Phir Se. Now, maybe as a natural progression she seeks to debut as an actor in the music album and that too with Amitabh Bachchan! As any well-meaning person we should appreciate Amruta for not being just a trophy wife but rather having the courage to make her own roads. Please keep politics out of this.
Lead image source: Twitter
Last Updated Mar 31, 2018, 6:33 PM IST