Amazing! Kolkata teen sets Guinness World Record by creating 'largest playing card structure' - WATCH
A 15-year-old from Kolkata, Arnav Daga, breaks records by creating massive playing card structures of iconic buildings, showcasing dedication and creativity in a 41-day endeavour.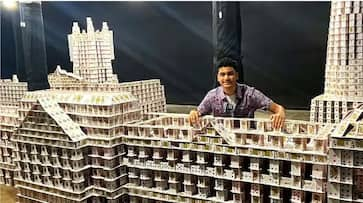 A 15-year-old boy hailing from Kolkata, West Bengal, has achieved a remarkable feat by setting a new Guinness World Record (GWR) for crafting the "world's largest playing card structure." Arnav Daga's impressive journey took him 41 days, during which he utilised playing cards to recreate four iconic structures from his hometown: the Writers' Building, the Shaheed Minar, Salt Lake Stadium, and St. Paul's Cathedral. What makes this achievement even more astonishing is that he accomplished it without the use of tape or glue, relying solely on the cards themselves. The finished project boasted dimensions of 40 feet in length, 11 feet 4 inches in height, and 16 feet 8 inches in width.
This young prodigy's incredible accomplishment dethroned the previous world record holder, Bryan Berg, whose playing card structure of three Macao hotels measured 34 feet and 1 inch in length, 9 feet and 5 inches in height, and 11 feet and 7 inches in width, as reported by a GWR blog.
Arnav's dedication to his project extended beyond the mere construction phase. Before embarking on the card construction, he conducted thorough research by visiting all four iconic sites, meticulously studying their architectural details, and precisely determining their dimensions. To find a suitable location for his "card-chitecture," he scouted approximately 30 places.
Arnav employed a unique technique in his card-building endeavor, incorporating "grids" consisting of four horizontal cards positioned at right angles and "vertical cells" made up of four vertical cards inclined towards each other at right angles, as highlighted by GWR.
Throughout the 41-day endeavour, Arnav faced numerous challenges, especially when constructing the Shaheed Minar, which repeatedly toppled over. However, his determination was unwavering, and he improvised to overcome these setbacks. "It was frustrating that so many hours and days of work got wiped out and I had to do it all over again, but for me there was no turning back," Arnav recalled.
In addition to his remarkable achievement, Arnav had to juggle the demands of schoolwork alongside his record-breaking attempts. Balancing these responsibilities was undoubtedly challenging, but his determination and passion for his project enabled him to conquer all difficulties along the way. "It was very tough to do both, but I was determined to overcome all difficulties," he said.
Arnav's incredible achievement serves as an inspiration to young minds everywhere, showcasing the power of dedication, creativity, and perseverance in pursuing one's dreams.
Last Updated Oct 7, 2023, 3:01 PM IST