Allow Eid prayers at mosques: After Congress leader CM Ibrahim, MLA NA Haris writes to Karnataka CM
MLA NA Haris has written a letter to the chief minister of Karnataka requesting the state government to allow Muslims in the state to offer Eid prayers at mosques with all precautionary measures in view of COVID-19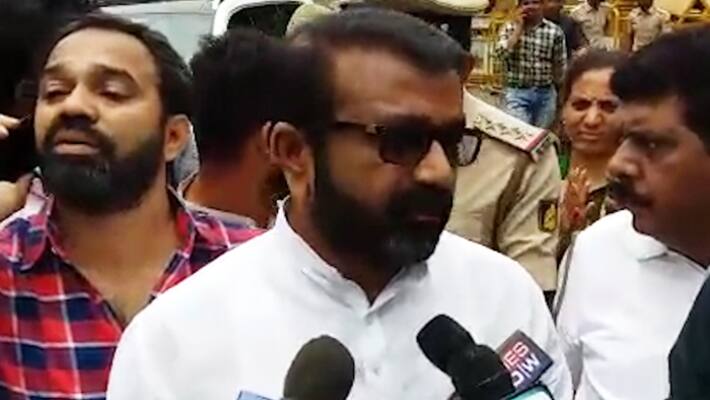 Bengaluru: MLA NA Haris has written a letter to the chief minister of Karnataka regarding the lifting of restriction for Eid prayers at mosques. With the letter, he took to Twitter and stated, "Requested honourable CM @BSYBJP  that if conditions are favorable ONLY then people be allowed to perform Eid prayers. We'll abide by the govt's decision. #GOK needs to take complete responsibility once permission is given to ensure the community doesn't face any flak after that."
He said in the letter, that the state government could consider allowing Eid prayers at Idgahs or Mosques if and only if it is feasible. He says consult with experts and medical faculty and consider if public prayers can be allowed.  He added that Muslims have followed government issued guidelines and have ensured they pray only at homes throughout the month of Ramadan.
He has asked CM to consider allowing prayers if feasible and possible but without succumbing to any pressure.
CM Ibrahim had also written to the chief minister of Karnataka requesting the same.
Karnataka Congress leader CM Ibrahim had written a letter to BS Yediyurappa urging him to lift the restriction on gathering at masjids for namaz on the occasion of Eid. Ibrahim in the letter said, Muslims in the state should be allowed to offer Eid prayers at mosques with all precautionary measures in view of COVID-19. 
In a letter to BS Yediyurappa, he said, "on behalf of the entire community I would suggest that the government take a decision by consulting with medical experts to grant permission to pray at ''Eidgah Maidans'' or Masjids from morning till 1 pm. with all precautionary measures and safety norms." The Eid-ul Fitr festival in the state may be celebrated on May 24 or 25, during which Muslims have to offer special prayers, the former Union minister pointed out. The letter, also signed by MLC M Abdul Jabbar, has drawn criticism from minister for Rural Development and Panchayat Raj KS Eshwarappa and certain sections for seeking permission for mass prayer meets, during the coronavirus pandemic.
The duo's supporters had also blamed the temple festival congregations that violated lockdown rules.
Lockdown rules flouted amid festival celebration in Karnataka's Ramanagara:
Even as coronavirus cases surged past the 90,000 mark in India, lockdown norms were thrown to wind in Karnataka, as people swarmed to temple festivals violating norms and regulations.
No permission was sought to conduct the temple festival and hundreds of them gathered at Kolagindanahalli village of Ramanagara district in Karnataka.
This being an annual affair, the villagers performed rituals and prayed that the deadly virus doesn't spread. As hundreds gathered, all lockdown rules were flouted as none wore a mask nor maintained social distance.
AJ Khan, state president of Dalit Minorities Sena said, "While the entire world is facing coronavirus and the COVID-19 crisis, two Muslim leaders, MLC CM Ibrahim and MLA NA Haris from Shantinagar constituency, have requested Karnataka government to grant permission for Edul Fithr namaz. This is clearly objectionable because the entire world is facing a big crisis from the epidemic. At this time, I request all Muslims to pray at their homes. These ministers and these MLAs and politicians are not thinking about the Muslims who are poor. They don't have ration kits. They don't have any basic facilities at their homes. These politicians could have brought up that issue while requesting the CM of Karnataka to grant permission for Edul Fithr namaz. So, this is clearly not acceptable, and we oppose it."
Last Updated May 17, 2020, 11:52 AM IST