WATCH: African Union becomes permanent member of G20
PM Modi on Saturday invited the African Union (AU) to join the G20, and his proposal was accepted by all member countries. Amid cheers and applause, External Affairs Minister S Jaishankar escorted President of the Union of Comoros and Chairperson of the African Union (AU), Azali Assoumani, to take his seat at the G20 high table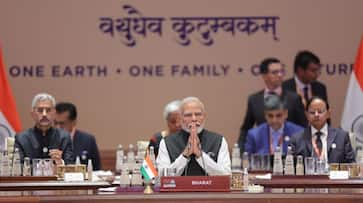 The African Union has become a permanent member of the G20 Summit. PM Modi invited the Head of the African Union to take his seat, as a permanent member of the G20 as the first session of the Summit began. Amid cheers and applause, External Affairs Minister S Jaishankar escorted President of the Union of Comoros and Chairperson of the African Union (AU), Azali Assoumani, to take his seat at the G20 high table.
Speaking during the inaugural address, PM Modi said, "India's G20 presidency has become a symbol of inclusion, of 'sabka saath' both inside and outside the country. This has become people's G20 in India. Crores of Indians are connected to this. In more than 60 cities of the country, more than 200 meetings have taken place. With the sense of 'Sabka Saath', India had proposed that the African Union be granted permanent membership of G20. I believe that all of us agree to this proposal." 
The theme of this year's G20 Summit, which is taking place under India's presidency is "Vasudhaiva Kutumbakam" or "One Earth · One Family · One Future" - is drawn from the ancient Sanskrit text of the Maha Upanishad. Essentially, the theme affirms the value of all life – human, animal, plant, and microorganisms – and their interconnectedness on the planet Earth and in the wider universe.
 Eminent leaders from all around the world, including US President Joe Biden, French President Emmanuel Macron and others, arrived for the highly-anticipated G20 Summit in New Delhi.
Last Updated Sep 9, 2023, 12:56 PM IST