Aditya-L1: First Earth-bound manoeuvre performed, spacecraft 'healthy'
ISRO achieved a significant milestone by successfully executing the first Earth-bound manoeuvre of the Aditya-L1 solar space observatory. This satellite is dedicated to studying the Sun's behaviour and its impact on space weather.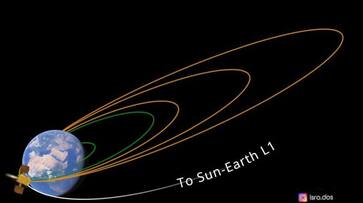 Scientists at the Indian Space Research Organisation achieved a significant milestone on Sunday by successfully executing the first Earth-bound manoeuvre of Aditya-L1, India's pioneering solar space observatory mission launched on Saturday, September 2. According to ISRO, the satellite is in good health and functioning as expected.
The initial Earth-bound manoeuvre (EBN1) was completed successfully from the Isro Telemetry Tracking and Command Network (ISTRAC) in Bengaluru. As a result, the satellite achieved a new orbit with dimensions of 245km x 22,459 km. The second Earth-bound manoeuvre is scheduled for 3 a.m. on September 5.
Aditya-L1 is a dedicated satellite designed for an in-depth study of the Sun, equipped with seven distinct payloads, five developed by ISRO and two in collaboration with academic institutions.
The name Aditya signifies "Sun," while L1, located approximately 1.5 million kilometres from Earth, refers to Lagrange Point-1 of the Sun-Earth system. In simpler terms, L1 is a space location where the gravitational forces of two celestial bodies, like the Sun and Earth, balance each other, allowing an object positioned there to remain relatively stable with respect to both bodies.
Sunday marked the initiation of the 16-day period during which Aditya-L1 will remain in Earth-bound orbits. EBN1 is the first of five manoeuvres around Earth that will provide the spacecraft with the necessary velocity for its journey.
Following this, Aditya-L1 will undergo a Trans-Lagrangian1 Insertion (TLI) manoeuvre, marking the beginning of its 110-day trajectory toward its destination around L1. Upon reaching the L1 point, another manoeuvre will bind Aditya-L1 to an orbit around L1, a point of gravitational equilibrium between Earth and the Sun.
Throughout its mission, the satellite will continuously orbit L1 in an irregularly shaped orbit, positioned roughly perpendicular to the line connecting Earth and the Sun. This strategic placement at the L1 Lagrange point ensures that Aditya-L1 can maintain a constant, uninterrupted view of the Sun. Moreover, it allows the satellite to monitor solar radiation and magnetic storms before they are affected by Earth's magnetic field and atmosphere.
Additionally, the L1 point's gravitational stability minimizes the need for frequent orbital adjustments, optimizing the satellite's operational efficiency. Aditya-L1's mission comes after India's successful lunar endeavor, Chandrayaan-3.
With Aditya-L1, ISRO embarks on the study of solar activities and their impact on space weather. The mission's scientific objectives include investigating coronal heating, solar wind acceleration, coronal mass ejections (CMEs), solar atmosphere dynamics, and temperature anisotropy.
Last Updated Sep 3, 2023, 1:52 PM IST