6 times these teachers gave a bad name to their profession
A teacher in Assam was arrested for taking objectionable pictures with his own student.
A Pastor from Kerala allegedly raped two minor girls across a period of time, landing him in jail till death.
A 12-year-old girl committed suicide because the teacher humiliated her in front of the class for staining her clothes with period blood.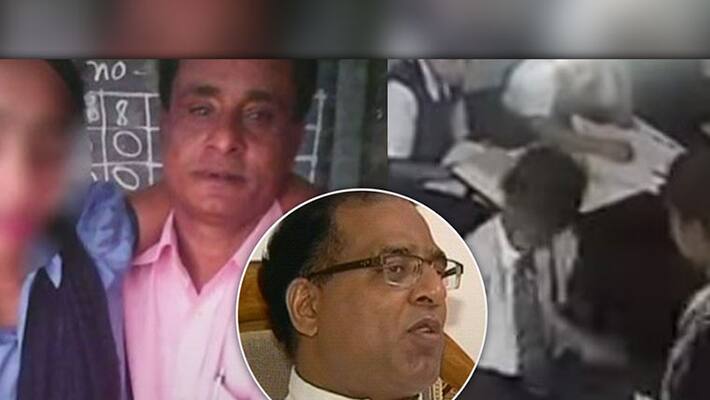 Today is teacher's day- a day we all remember our Gurus and teachers in the most special manner. They form the best part of our memories from our childhood to university days, giving us the important lessons of life. Their contribution in our life is immeasurable and is not to be forgotten. However, not many would agree to that. Off late, a few incidences have jolted us back to our senses, shattering our belief that not all is utopic in this profession. 
Meet these five different teachers who have given a bad name to their profession.
The teacher who hugged and kissed his students: It came as a shocker when media across the country started flashing objectionable photos of a man hugging and groping his female students. A teacher of a private high school in Hailakandi district in southern Assam had confessed to the crime saying that he himself had asked another girl in his class to take pictures of him holding the girl in various positions. The teacher, Faizuddin Lashkar admitted that he took the photographs to break the marriage of the girl with another man and had proposed to get married to her instead. But neither the groom's family nor the girl's parents broke the marriage.
Lucknow's monstrous teacher: A recent video of a teacher brutally slapping a student for not responding to her attendance call surfaced, bringing forth the horrors of mismanagement in school. The incident happened in Lucknow where a third standard student was seen being slapped mercilessly by the teacher. The brutal behaviour of the teacher was captured by the classroom CCTV. She can clearly be seen hitting the student with both her hands alternatively even as the student stands there holding his cheek. The teacher could be seen stopping for a few seconds and asking him to lower his hands and then she begins slapping him again. The incident happened in Lucknow's St. John Vianney High School. 
Girl molested for being late to school: In a renowned school in Bengaluru, a PT teacher was arrested on allegations of molesting his 12-year-old student for being late to school. The girl was allegedly taken to a room where she was undressed and sexually abused. The teacher further threatened her with dire consequences if she told anyone anything. He was later arrested for charges under  Protection of Children from Sexual Offences (POCSO) Act, 2012.
Girl commits suicide over period stains: A teacher in a Tamil Nadu school took brutality to a different level altogether. She humiliated a 12-year-old student in front of her friends for being careless about period stains. Evidently, the girl had stained her uniform and the bench she was sitting on. When she realised it, she asked the teacher for permission to go to the washroom. The teacher accused her of being careless instead and took her to the principal who too scolded her. The girl allegedly committed suicide, unable to bear the humiliation.
Pastor commits double rape: Pastors are looked upon as spiritual guides, teachers and mentors. However, Pastor Sanil K James was nothing of it. He was a paedophile and a rapist, to be point blank. While serving a 40-year jail term for raping a minor girl, he faced trial for another rape where he assaulted another 13-year-old girl multiple times since 2013. According to police investigations, the pastor was in very good terms with the parents of both the girls and it was therefore easy for him to get access to the girls. Incidentally, both the victims were from the same school and both of them could not open up to their parents because the pastor was a counsellor in their school. 
Kerala Catholic priest rapes 16-year-old, gets her pregnant: In a similar incident like that of the pastor case, another Catholic priest in Kerala was held for impregnating a 16-year-old girl by raping her during a visit to the church. 48-year-old Robin Vadakkancheril had been serving as the vicar at the St Sebastian's Church at Kottiyoor in Kannur. He had intimidated the girl so much that she falsely implicated her father for abusing her. However, she opened up about the incident during a childline help counselling. The parents came to know about the incident only when they discovered that she was pregnant. 
Last Updated Mar 31, 2018, 6:48 PM IST