2-year-old toddler in Kerala enters India book of records for remembering 205 words at once
A 2-year-old toddler from Palakkad, Ishanviya, has entered the India Book of Records for accurately remembering 205 words.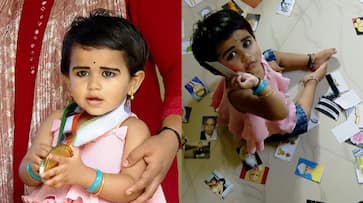 Palakkad: A toddler from Palakkad made it into the India Book of Records in just four months until she turned two years old. The recorder, Ishanviya from Mudalamada, is one year and eight months old. The child is so intelligent that she approaches the people who arrive home without hesitation, even though she has not seen them.
The fact that Ishanviya has an India Book of Records medal at the age of two is really amazing. She is accurate in 205 words, including those describing colours, images, and objects.
Speaking to the media, her mother Sobhika said, " By the time the baby was just 10 months old, she would speak. She said 'Daddy' clearly. Meanwhile, we heard about the India Book of Records and therefore we gave it a try. In the first attempt itself, she was qualified. Now, we are teaching some general knowledge to her."
Last Updated Oct 29, 2023, 11:18 AM IST