'Pinarayi hiding his inefficiency...' Rajeev Chandrasekhar responds to Kerala CM's outburst
Union Minister Rajeev Chandrasekhar reacted to Kerala CM Pinarayi Vijayan's outburst where the latter said that he would take strict action against the former and the BJP leaders who claim false statement in the wake of Kalamassery blasts.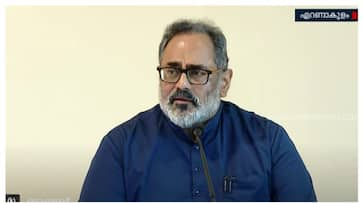 Thiruvananathapuram: Hours after Kerala Chief Minister Pinarayi Vijayan threatened to sue BJP leaders, including Union Minister for Electronics and Information Technology Rajeev Chandrasekhar, for making offensive remarks about certain communities. However, the Union Minister defended his remarks.
Speaking to the media, the Union Minister asked what kind of ethics the Chief Minister had to call him a communalist. Chandrasekhar also stated that both the Left and Congress allow radical elements to grow in Kerala. 
He said, "When issues like corruption and favoritism are brought up, they (CPIM) try to conceal it by saying that we are communalists. The Congress is also silent on allowing a representative of Hamas to speak at a conference in Kerala." 
He was referring to the online address made by former Hamas Chief Khaled Mashal at a meeting organised in support of Palestine by the Solidarity Youth Movement in Malappuram on October 28.
The Union Minister claimed, " My political accusations and mistrust are against the Chief Minister." Chandrasekhar added, "Pinarayi is hiding his inefficiency as a Home Minister by using the communalism argument as a cover."
"Under CM Pinarayi Vijayan, Kerala has shown increasing tolerance towards radical elements and radicalization. Whether it is the Kozhikode attempt to burn a train which would have caused, if he had succeeded over 200-300 deaths and the characterization of that person as being mentally ill till it was revealed that he was an ISIS sympathizer, and that was a deliberate attempt at terrorism. There is a history of appeasement of radical elements by both the Congress and the Left in Kerala...," he said.
Chandrasekhar added, " "I have good relations with all religious groups. There is no competition to place blame on a group. We have not approached it with prejudice. I questioned the brutal killings of the Hamas and the silence on it. "
After the blast went-off in a convention centre at Kalamassery on Sunday, the Union Minister tweeted, "Dirty shameless appeasement politics by a discredited CM (and HM) @pinarayivijayan besieged by corruption charges.Sitting in Delhi and protesting against Israel , when in Kerala open calls by Terrorist Hamas for Jihad is causing attacks and bomb blasts on innocent Christians."
Reacting to this, CM Pinarayi Vijayan said that he would take strict legal action against the Union minister and BJP leaders who unleashed a wave of communally charged comments in the wake of the Kalamassery blasts.
Last Updated Oct 30, 2023, 1:39 PM IST