'Fully dedicated to..' Rahul Gandhi reveals why is he not married yet (WATCH)
Rahul Gandhi, a key figure in the Indian National Congress, addressed students at Maharani College in Jaipur. He humorously attributed his unmarried status to his full commitment to politics, shared his love for travel and minimal skincare routine, and listed his food preferences.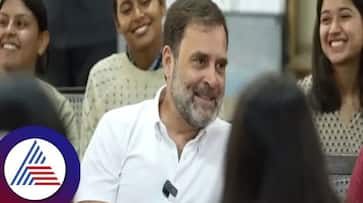 In a recent interaction with students at Maharani College in Jaipur, Rahul Gandhi, a prominent leader of the Indian National Congress, discussed his dedication to his political duties and his unmarried status. The video of this exchange was shared on social media, providing insights into his responses to questions from young women in the audience.
During the conversation, a young woman praised Rahul's intelligence and looks and asked about his marital status. In a lighthearted manner, Rahul Gandhi replied, "I am not married because I am fully dedicated to my work and the Congress party."

Madhya Pradesh election 2023: Rahul Gandhi attacks Shivraj Chouhan's govt over farmer suicides, Vyapam scam
When asked about his favourite travel destination, he preferred "anywhere I have not gone" and mentioned his love for exploring new places. Furthermore, regarding skincare, Rahul disclosed that he doesn't use creams or soap on his face; he simply washes it with water.
In a more casual moment, Rahul Gandhi shared his snack preferences, stating that he enjoys all foods except bitter gourd, peas, and spinach.
Last Updated Oct 11, 2023, 11:08 AM IST