First time after 4 decades, Puducherry gets woman minister in Cabinet
In a landmark decision by Puducherry CM N Rangasamy, two-time MLA Chandira Priyanga was inducted into the Cabinet resulting in as the first woman in Puducherry cabinet in 41 years.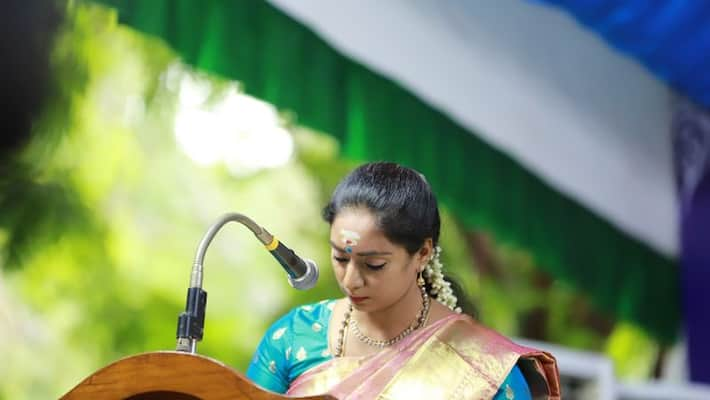 Two time MLA from Neduncadu, Chaindra Priyanga has been inducted into the Puducherry Cabinet and this has gained more significance with Rangasamy as the CM and Priyanga to be the first woman minister in the Cabinet in 41 years.
The last woman to be in the Puducherry Cabinet was Renuka Appadurai who served as Education Minister till 1983 during the Congress-DMK alliance.
Priyanga did not expect to be in the cabinet as it was a coalition and in the 30 member strength 33 members (3 nominated) were all male. However, to send a strong message among the voters that AINRC will respect women voters too, they inducted Priyanga. The woman MLA says she will work hard as her leader Rangasamy has reposed faith in her.
Rangasamy after inducting Ministers into Cabinet will later allocate portfolios. Along with Priyanga, BJP leaders A Namassivayam and AK Sai J Saravana Kumar were also administered the oath.
"I am very proud of the opportunity given to me. It is not only an opportunity for me but for women all over. In all fields, women have to face so many hurdles to succeed, it's not only in politics. So to be one of the 30 MLAs here I think is a major achievement. Our leader has also given me this chance to represent the women here. I will also inspire more women to enter politics. To be the first female Minister in over 40 years is a great opportunity that has been given to me at such a young age. My aim is to ensure that I make good on the trust that my party leader, my family and the people who have given me this opportunity. I want to make them proud of my work as a Minister," Priyanga was quoted as saying.
The election to Puducherry was held on April 6 and ANIRC won 10 seats and alliance partner BJP won 6 seats, Independent won 6 seats. DMK and Congress alliance could manage only 8 seats.
Last Updated Jun 30, 2021, 11:28 AM IST