Bihar: LJP's Chirag Paswan to align with RJD?
Amidst the growing discontent between Lok Janshakti Party leader Chirag Paswan and his uncle Union Minister Pashupati Kumar Paras over late Ram Vilas Paswan's political legacy, Chirag Paswan has met RJD leader. This meeting has sparked speculation about the young leader joining RJD or forging an alliance.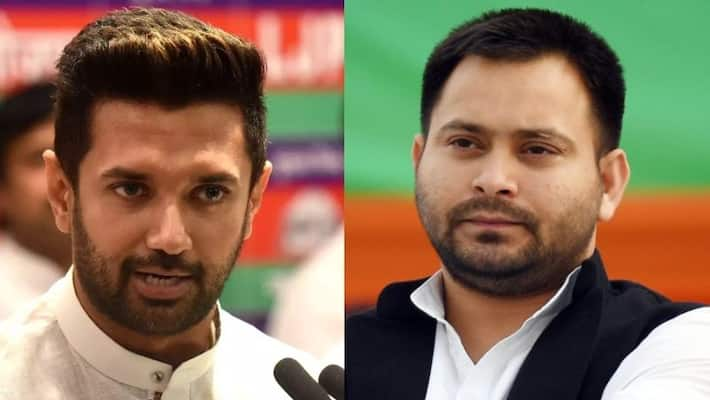 As the differences between Lok Janshakti Party founder's late Ram Vilas Paswan's son Chiran Paswan and his uncle and now Union Minister Pashupati Paras escalated over the legacy of senior Paswan, reports coming in claim that Chirag held a meeting with RJD leaders.
As per reports, Chirag met Shyam Rajak, National General Secretary, RJD on July 10. Interestingly, Rajak had met Bihar's political giant Lalu Yadav on July 9 fueling speculation that the master politician will be scripting a new chapter in Bihar politics.
Though Rajak has junked this idea openly by saying it as a 'courtesy meeting',  his reaction to further statements say otherwise. "All those who want to take forward the ideology of Lohia and Ambedkar are welcome, be it Chirag Paswan or anyone else," Rajak was quoted as saying.
 
Going by sources as reported by some media sections, Rajak made a phone call arrangement between junior Paswan and Lalu Yadav and the two had a 15-minute interaction. It is said that the meeting also focused on the possible alliance between the two in the coming days.
Meeting of Chirag with the RJD leader gained importance as in October last year RJD's Tejasvi Yadav sent out an open invitation to Chirag Paswan to join 'Mahagathbandhan'. However, Chirag went alone and tasted humiliating defeat.
The difference between Paswan and Paras escalated, the Central government included Paras into the Cabinet and gave him the same portfolio of senior Paswan.
Junior Paswan's court battle against Paras's inclusion into Cabinet also failed. Paras then added insult to injury over Chirag saying, "By Hindu law and the Indian constitution, Chirag Paswan has the right to the late Ram Vilas Paswan's property. However, I was blessed with his political legacy," Paras was quoted as saying.
Last Updated Jul 12, 2021, 11:07 AM IST