Sqdn Ldr Avani Chaturvedi treasures being IAF's 1st woman pilot to participate in aerial wargame abroad
Squadron Leader Avani Chaturvedi, a Su-30MKI pilot, was part of the IAF contingent that participated in a 16-day mega air combat exercise with JASDF at the Japanese airbase of Hyakuri from January 12 to 26.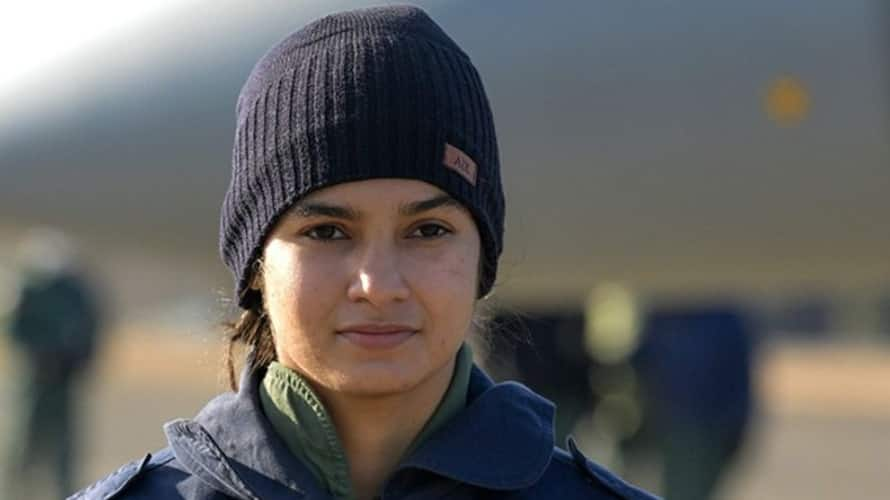 Weeks after becoming the Indian Air Force's (IAF) first female fighter pilot to participate in an aerial wargame abroad, Squadron Leader Avani Chaturvedi says flying combat aircraft is exciting, and the sky is the limit for young people interested in joining the force.
Squadron Leader Avani Chaturvedi, a Su-30MKI pilot, was part of an IAF contingent that participated in a 16-day mega air combat exercise with the Japan Air Self-Defense Force (JASDF) at the Japanese airbase of Hyakuri starting from January 12, 2023, to January 26, 2023. 
While talking to PTI, Chaturvedi said, "Participating in flying exercises, especially with a foreign air force, is always a positive experience. This was especially true as it was my first time participating in an international exercise. It was a fantastic learning experience and a fantastic opportunity for me."
The exercise, 'Veer Guardian 2023,' was the first of its kind between the IAF and the JASDF, and it focused on air combat manoeuvring, interception, and air defence missions.
"I'd like to tell all young, ambitious girls and boys that the sky is the limit for you. The IAF is a fantastic career option, and flying fighter planes is a thrilling experience," said Chaturvedi.
When asked how difficult the path to becoming a fighter pilot was for her, she replied, "I would like to tell all IAF aspirants that you should set your sights on the goal and go ahead with dogged determination."
Squadron Leader Chaturvedi, who holds a B.Tech in computer science, was one of the IAF's first three female fighter pilots when she was commissioned in June 2016, with other two Bhawana Kanth and Mohana Singh. 
"This exercise has provided us an excellent opportunity to learn from one another. The goal is to learn about each other's working philosophies, planning processes, and best practices in general. It is a collaborative learning experience," Chaturvedi explained. 
Women fighter pilots in the IAF had previously participated in air exercises within the country, but this was the first time one of them was involved in a military drill abroad, said the officials. 
In February 2018, Chaturvedi became the first Indian woman to fly a fighter plane solo when she flew a MiG-21 bison. She took off from the Indian Air Force's base in Jamnagar.
In 2016, Chaturvedi, Kanth, and Singh were commissioned into the Indian Air Force, just less than a year after the government decided to open up the fighter stream to women on a trial basis. Presently, the IAF has over 20 women fighter pilots. 
Last year, the defence ministry announced that it had decided to convert the experimental scheme for the induction of female fighter pilots into the IAF permanently. The Navy announced the deployment of its first batch of female pilots on the Dornier maritime aircraft in 2020.
In December, Navy Chief Admiral R Hari Kumar said that the Indian Navy is considering opening all of its branches to women beginning in 2023. Additionally, in a significant step, the Army began inducting women into the military police in 2019.
The military police are responsible for policing cantonments and army establishments, preventing soldiers from breaking the rules and regulations, ensuring the movement of soldiers and logistics during peace and war, and assisting civil police when needed.
Army Chief Gen Manoj Pande announced last month that the Army has decided to commission women officers into artillery regiments and that a proposal has been sent to the government.
About the 'Veer Guardian' exercise in Japan, India sent two Su-30MKI aircraft, one IL-78 flight refuelling aircraft, and two C-17 Globemaster strategic airlift transport aircraft. The JASDF participated in the exercise with F-2 and F-15 fighter jets.
While in the exercise, the two air forces performed complex and extensive aerial manoeuvres in various simulated operational scenarios. According to officials, the IAF and JASDF engaged in air-combat manoeuvring, interception, and air-defence missions in visual and beyond-visual range settings.
The air forces' aircrews also flew in each other's fighter planes to better understand each other's operating philosophies.
(With inputs from PTI)
Also Read: Flying officer Avani Chaturvedi has become the first Indian woman to fly a fighter aircraft
Also Read: Indian Air Force Day: Flt. Lt. Sunita Dixit (Retd) on how IAF transformed her life
Also Read: From the IAF Vault: The story of how IAF's first chief was picked
Last Updated Feb 5, 2023, 7:51 PM IST