Army Cheetah helicopter crashes near Tawang; pilot dead
The incident happened at around 10 AM during a routine sortie. The cause of the crash is not known at this stage. Details are being ascertained.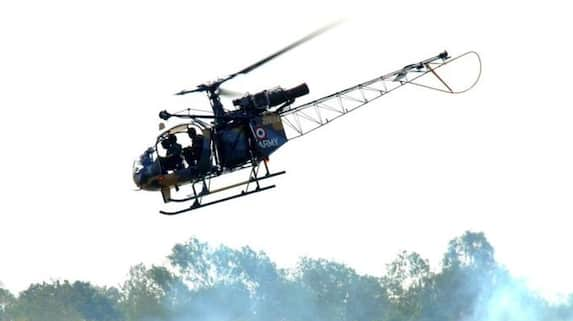 An army aviation Cheetah helicopter pilot has died after his aircraft crashed while flying in the forward area near Tawang on Wednesday.
The incident happened at around 10 AM during a routine sortie. Both pilots were airlifted to Army Field Hospital at Khirmu, close to Tawang, for medical treatment. However, one of the pilots, identified as Lt Col Saurabh Yadav, succumbed to the injuries during treatment. The second pilot, Major Mridul Aggarwal is stable and being evacuated to Tezpur due to lung injuries.
The helicopter reportedly crashed at Nyamjang Chu near the BTK area of Jemeithang circle. The Cheetah was coming from the Surwa Samba area after dropping the General Officer Commanding of the 5th Infantry Division. 
The cause of the crash is not known at this stage. Details are being ascertained.
'Death traps'
The Cheetah helicopters have outlived their service by over a decade ago and have been facing severe serviceability issues. The Cheetahs are being extensively used in the Himalayas, where it operates at altitudes over 20,000 feet. It is the backbone of the Indian Army's strategic military presence in Siachen.
The five-seater helicopter is versatile, multi-role, highly manoeuvrable and rugged in construction. The Cheetah has been suitable for commuting, observation, surveillance, logistics support, rescue operations and high-altitude missions. These choppers were inducted into service in the 1970s.
Currently, the Indian Army operates 190 Cheetah and Chetak helicopters. Over 130 helicopters, or more than 70 per cent of them, are over 30 years old, while the remaining will cross the 50-year mark next year. 
In a 2015 internal communication, the Indian Army headquarters had said that Cheetah helicopters have virtually become 'death traps'. Incidentally, late General Bipin Rawat Rawat miraculously survived a Cheetah crash in 2015.
In addition to the Army, the Navy and IAF operate these helicopters. The Army and the Air Force require 483 choppers to replace the ageing fleet of Cheetah and Chetak to cater to operational voids. During his visit to Russia in 2015, Prime Minister Narendra Modi had signed an inter-governmental pact to purchase 200 twin-engine Kamov Ka-226T helicopters. Out of 200, 135 were for the Army, while 65 were for the IAF. The project is stuck between two countries. 
Meanwhile, state-owned plane maker Hindustan Aeronautics Limited is producing 12 Light Utility Helicopters, six each for the Army and the Air Force. The first four are expected to be manufactured by the end of this year. The helicopter will be capable of flying at 220 Kmph, service ceiling of 6.5 Km and a range of 350 Km with a 500 kg payload.
Last Updated Oct 5, 2022, 3:34 PM IST