WB post-poll violence: not even a 7-year-old spared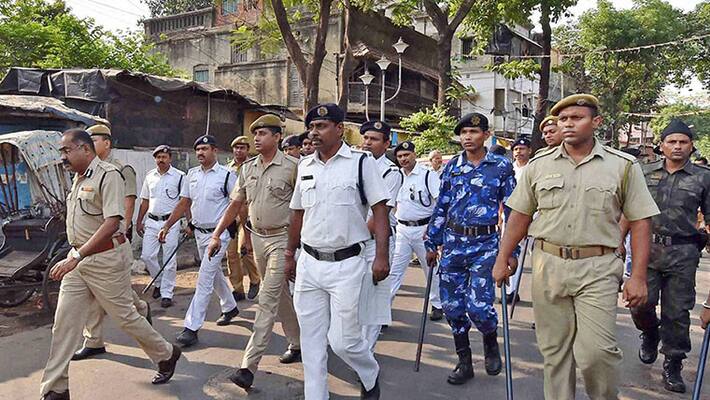 In a shocking case of poll-related violence, a 7-year-old girl was injured allegedly by Trinamool workers after her grandfather chose to vote for the CPM on the fifth phase of polling. 
The incident happened on April 30 night in Haridevpur area of Behala East constituency. 
Thirteen persons were injured in different incidents of post-poll violence in South 24 Parganas district April 30.  Voting in South 24 Parganas district was held yesterday during the fifth and penultimate phase of polling.
A senior police officer said 10 persons were beaten up at Sarberia Bazar in Basanti constituency of the district and four shops put under lock by a group. CPM leadership claimed the 10 belonged to the Marxist party and RSP and the attackers belonged to TMC who turned their wrath on Left activists for voting
Two of the 10 were hit with choppers, the CPM claimed but the TMC denied the charge.
The BJP claimed that in Phul Malancha area, one of their party polling agent was beaten up, allegedly by TMC men. A police officer said there was a complaint of one injured in a clash in Phul Malancha and a force was sent.
At Chakraberia in Baruipur, TMC supporter Noor Alam was hit with sharp weapon while sipping tea at a stall, the officer said.  TMC leadership alleged Noor was beaten up by CPM men in the area.
At Jyotishpur in the district, RSP supporter Baikantha Giri was assaulted by a group on May 1. RSP sources alleged Giri was beaten up by TMC activists in the area.
Final voter turnout 81.66% in phase 5 of WB polls, according to the Election Commission.
The Election Commission on May 1 announced the final poll percentage as 81.66 % for 53 seats.
Hooghly district recorded 82.52 %, Kolkata South 65.10 % and South 24 Parganas 83.14 %.
Last Updated Mar 31, 2018, 6:49 PM IST