Trump caught on tape bragging about groping women
Trump bragged in vulgar terms about kissing and groping unwilling women.
Making a rare apology, Trump said, "I apologise if anyone was offended."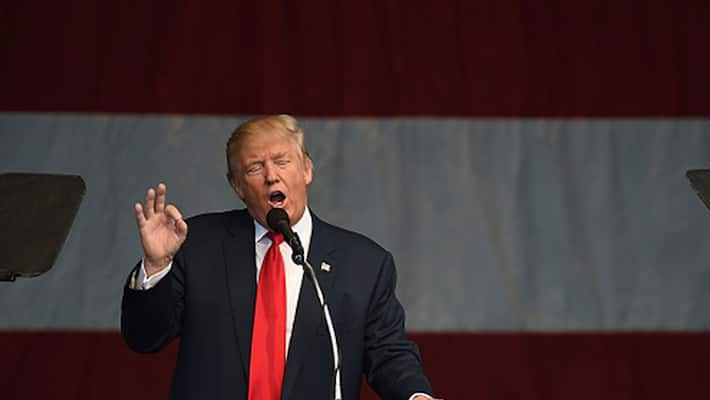 Donald Trump's White House campaign has been jolted with a 2005 video of him surfacing in which he is making lewd remarks about women, prompting a rare apology from the controversial Republican presidential candidate.
    
The video, obtained by the Washington Post, captures Trump having an extremely lewd conversation about women.
    
"I just start kissing them...Just kiss. I don't even wait," Trump is quoted saying. "And when you're a star they let you do it," he says in the recording.
    
Trump bragged in vulgar terms about kissing, groping and trying to have sex with women during the conversation caught on a microphone.
    
The video captures Trump talking with Billy Bush, then of "Access Hollywood", on a bus with the show's name written across the side. They were arriving on the set of 'Days of Our Lives' to tape a segment about Trump's cameo on the soap opera.
    
Following outrage over his comments, Trump said, "This was locker room banter, a private conversation that took place many years ago. Bill Clinton has said far worse to me on the golf course - not even close."
    
Making a rare apology, Trump said, "I apologise if anyone was offended."
    
Trump's Democratic rival Hillary Clinton was quick to slam Trump for his remarks, saying, "This is horrific. We cannot allow this man to become president."
    
"This kind of behaviour is disgusting. It makes me sick to my stomach," Democratic vice presidential nominee Senator Tim Kaine said.
    
Even Trump's own party men refused to accept his apology.
    
"As the grandfather of two precious girls, I find that no apology can excuse away Donald Trump's reprehensible comments degrading women," said Jeb Bush, the former Republican presidential aspirant.
    
House of Representative Speaker Paul Ryan, in a statement, said he is "sickened" by Trump's 2005 comments about women. "Women are to be championed and revered, not objectified," Ryan said.
    
"I hope Mr Trump treats this situation with the seriousness it deserves and works to demonstrate to the country that he has greater respect for women than this clip suggests," he said.
    
Even Trump's own party chief, Reince Priebus, the Republican National Committee chairman, said this was unacceptable.
    
"No woman should ever be described in these terms or talked about in this manner. Ever," he said in a statement.
    
Ryan and Trump were scheduled to attend an election rally in Wisconsin on Sunday night. However, Trump would not be attending it now and instead will be represented by the Republican vice presidential nominee Mike Pence.
    
The video could impact Trump's campaign bid significantly as it has emerged just days ahead of the second presidential debate scheduled for Sunday.
Last Updated Mar 31, 2018, 6:50 PM IST