May takes charge of Brexit as Britain's second woman PM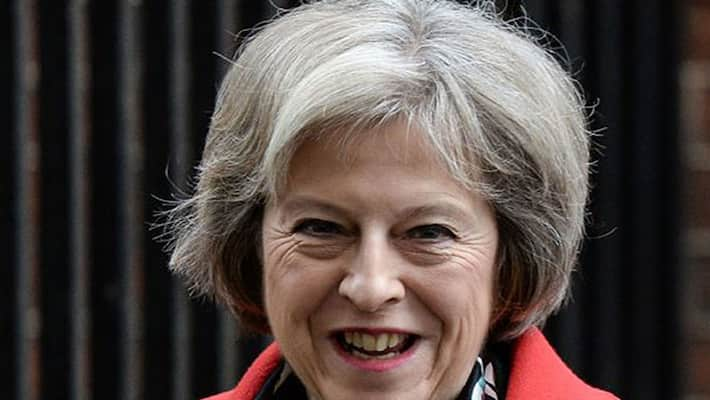 Theresa May today became Britain's second woman prime minister after Margaret Thatcher, vowing to forge "a bold new positive role" for the UK in the world post-Brexit.
May, 59, took charge after she had her audience with Queen Elizabeth II at Buckingham Palace. She spoke outside No 10 Downing Street shortly after emerging from the palace, having paid the traditional visit to the British monarch to be invited to form a government.
"We face a time of great national change... As we leave the European Union we will forge a bold new positive world for ourselves, and we will make Britain a country that works for everyone of us.
"That will be the mission of the government I lead, and together we will build a better Britain," she said, in reference to Britain's recent vote to leave the European Union (EU) that brought her to power.
May becomes the second-ever woman Prime Minister of Britain, the 13th PM to be officially appointed by the Queen and the 54th holder of the office of British prime minister since it was created in the 18th century.
May was accompanied by husband, Philip May, as she addressed the world's media waiting at Downing Street since her predecessor David Cameron had departed just over an hour earlier.
"In David Cameron, I follow in the footsteps of a great, modern prime minister... he led a one-nation government and it is in that spirit I also plan to lead," she said in her first speech as PM, wearing a black and yellow coat and her trademark leopard print kitten-heel shoes.
A heavy workload already waiting for her in-tray after the Brexit vote.
Earlier, Cameron wished May well in his final speech as Prime Minister, saying he was proud that for the "second time in British history" the premier will be a woman and "once again a Conservative" – in reference to Thatcher as the first female PM of Britain.
Thatcher was the Prime Minister of the UK from 1979 to 1990 and the leader of the Conservative Party from 1975 to 1990.
Cameron also made a reference to the reason behind his untimely resignation, which came about as a result of the Brexit vote in the June 23 referendum.
"I believe Theresa will provide strong and stable leadership in fulfilling the Conservative manifesto on which we were elected, and I wish her well in negotiating the best possible terms for Britain's exit from the European Union," he said in his farewell speech as he departed from Downing Street.
He had announced he would be stepping down from the post the day of the Brexit results but had to eventually make his own exit from Downing Street much sooner than the September 9 time-line set by the Conservative party for its leadership contest.
May had emerged as an unchallenged candidate after her only opponent, Andrea Leadsom, withdrew from the race on Monday.
May has been in British Parliament as MP for Maidenhead since 1997 and under outgoing Prime Minister David Cameron, she has been the longest-serving home secretary for Britain in 50 years.
She has worked with the Bank of England in the past before entering front-line politics. Among her first tasks will be to finalise her frontline Cabinet posts, including a new minister for Brexit.
President of the European Commission Jean-Claude Juncker was among the first to write to the new Prime Minister, highlighting the urgency of putting Brexit plans into motion.
"I understand that you are now occupied with the important responsibility of forming a new government. I wish you every success in the task ahead," he said in a letter to her.
"The outcome of the United Kingdom's referendum has created a new situation which the United Kingdom and the European Union will have to address soon. I look forward to working closely with you on this and to learn about your intentions in this regard," he said.
Last Updated Mar 31, 2018, 6:38 PM IST