Stormy Parliament session on the cards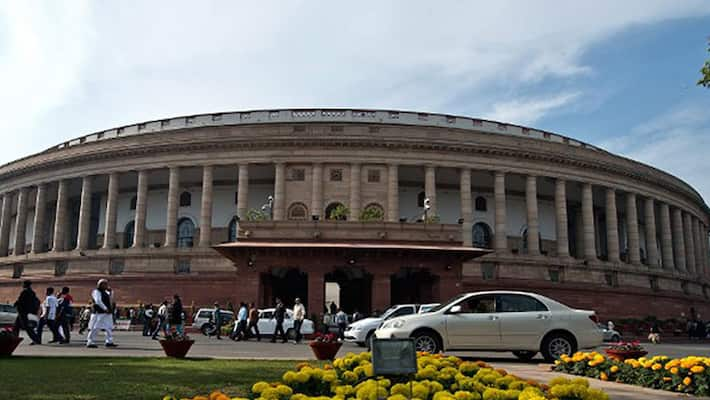 Even as the government has listed a heavy agenda for the session, including passage of 13 bills in Lok Sabha and 11 bills in Rajya Sabha, there is understanding among its floor managers that pushing the contentious measures like GST won't be possible in first few days.
Congress backed by the Left, JD(U) and other opposition parties, is determined to corner the Centre over the imposition of President's rule in Uttarakhand and Arunachal Pradesh, calling it an "assault" on the federal structure.
The NDA government is likely to counter the attack citing instances of imposition of President's rule when Congress governments or governments backed by it or other opposition parties were in power at the Centre.
Government sources claimed President's rule was imposed 111 times in the country since 1951, out of which it happened 91 times when BJP or NDA was not in power.
Lok Sabha Speaker Sumitra Mahajan has called an all-party meeting today to ensure smooth functioning of Parliament.
The session begins in the middle of the raging controversy over the Uttarkhand political crisis in which the Centre's role has come in for scathing criticism, besides drought-like conditions in 10 states.
A number of opposition parties have given notices for suspension of Question Hour on the first day of the session over the Uttarakhand issue and sought a discussion on the drought in the first week.
Congress's Deputy Leader in Rajya Sabha Anand Sharma has sought a resolution by the Upper House that seeks to "deplore" the "destabilisation" of the democratically elected government in Uttarakhand and "disapprove the unjustified" imposition of President's rule in the state.
Congress President Sonia Gandhi, who had held discussions with select party leaders during a strategy meeting on the Uttarakhand crisis, had suggested that the party should take an aggressive stand on this issue.
Apart from the Uttarakhand issue, Congress will also target the government over imposition of President's rule in Arunachal Pradesh, the Pathankot terror attack, the Ishrat Jahan case, drought management and alleged communalisation of educational institutes.
After the near wash-out of the two sessions last year, the government is looking ahead to the second half of the Budget session to push bills, including the key Goods and Services Tax (GST) Bill, touted as the biggest tax reform in India.
The financial business, including discussion on demands for grants of various ministries in Lok Sabha and working of some ministries in Rajya Sabha, consideration and passing of the Railways Appropriation Bill, 2016 and Finance Bill, 2016 constitutes the main agenda of this session of Parliament.
Last Updated Mar 31, 2018, 7:04 PM IST