Congress to gherao Parliament to expose 'deceit and deliberate lies'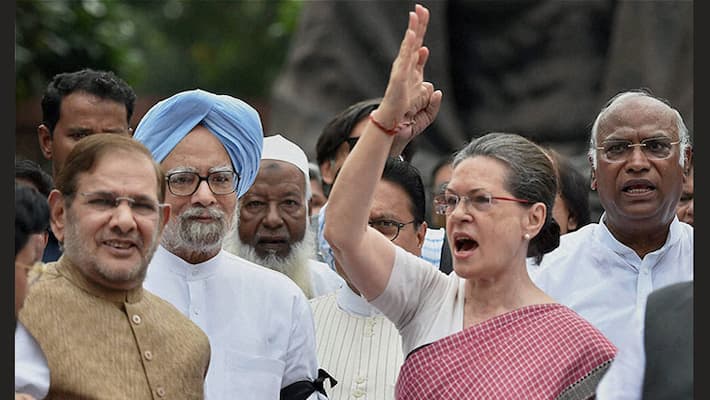 Congress today announced a gherao of Parliament on May 6 to highlight issues like Uttarakhand, drought and the campaign of "deceit and deliberate lies" against opposition.
Party chief Sonia Gandhi, and other party leaders and party activists would march from Jantar Mantar early morning on next Friday to gherao Parliament.
The announcement was made by party's chief spokesman Randeep Surjewala, who said the gherao would be the culmination of a "save democracy" march.
 He said it is being undertaken in the wake of attempts by Prime Minister Narendra Modi and his government to "topple" duly elected governments as was witnessed in the "conspiracies" in Arunachal Pradesh and Uttarakhand.
 In an obvious reference to the AgustaWestland issue, he said the march was also against the "drama" being enacted by the BJP and the government and the campaign of "deceit and deliberate lies" launched by it.
Surjewala said that the march was also to highlight the drought and the agrarian crisis that has forced a spate of suicides by farmers and has affected 40 crore people spread over a large number of states.
"We have seen the undemocratic face of the Modi government in Arunachal Pradesh and Uttarakhand," he said.
Last year, the Congress had organised a rally at Ram Lila grounds on April 19 to protest the controversial Land acquisition bill which it had dubbed as "anti-farmer and pro-corporate".
Last Updated Mar 31, 2018, 6:39 PM IST