OROP Agitation: Ex-Servicemen to move to Supeme Court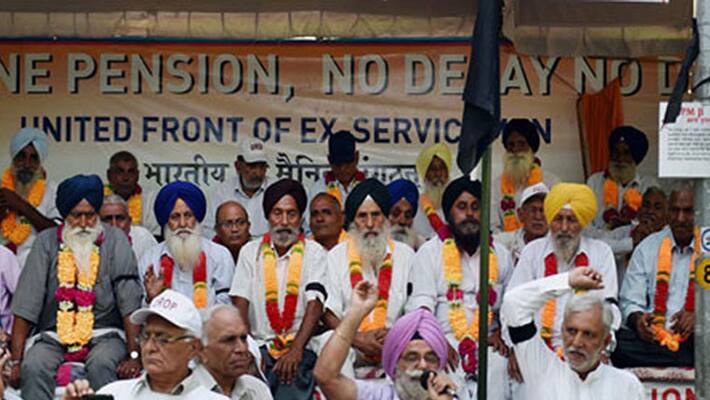 Ex-servicemen demanding One Rank One Pension (OROP) suspended their agitation laest night. The decsion followed after senior lawyers Ram Jethmalani assured of taking up the issues in the Surpeme Court.
The service men have been sitting on dharna for 320-days at the Jantar Mantar in New Delhi.
"The indefinite relay fast has been suspended now as we will be taking the legal recourse. Defence Minister Manohar Parrikar had said that proverbial gun was been held to the head of the government by virtue of our presence at Jantar Mantar.
"Now that we have suspended the agitation, we believe that Parrikar will now keep his promises made to us," a report quoted Col (retd) Anil Kaul, spokesperson of the ex-servicemen movement.
Jethmalani addressed the gathered armed forces veterans at Jantar Mantar. "I am 93-year-old and I can die any day but I assure you that it will not happen before I get you justice from the Supreme Court," Jethmalani was quoted by the report.
In addition to taking up the issue at the apex court, four cases have been filed at the armed forces tribunal.
The veterans have been demanding "complete" impelmentation of the OROP pension. Defence Minister Parrikar in September last year had announced implementation of the long delayed OROP for ex-servicemen.
Last Updated Mar 31, 2018, 6:50 PM IST