Viral: Pay £66,200, buy Nawaz Sharif on eBay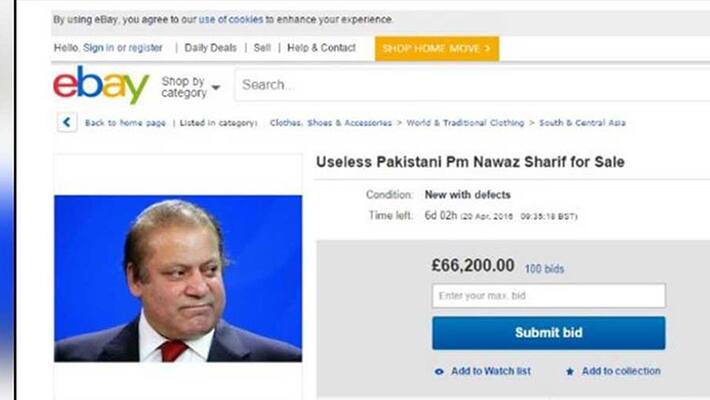 A UK-based eBay user has put Pakistan Prime Minister Nawaz Sharif on sale for for 66,200 pounds (Rs 62 lakh approximately), describing the politician as 'Useless Pakistani PM Nawaz Sharif'.
The listing, which went viral soon after it was posted, went on to detail the commodity on sale. 
'Used Pakistani Prime Minister Nawaz Sharif for sale. No longer needed. Needs a bit of TLC. No box or instructions. Buyer must collect. Seller not prepared to touch item. Pick up from central London today, address will be supplied on completion of sale. Buyer must arrange own transport," it read.
It did not end there. The listing went on to add Nawaz' brother - Punjab governor Shahbaz Shariz - as a freebie. 
"Not in working condition. It never worked. It was faulty and corrupt by birth. The whole range of the product and its family is genetically defected and corrupt. Take it away and rid us of this disease. Buy this and a similar item in smaller pack Mr Shahbaz Sharif will be given for free with it and that item is good with drama and passionate speeches but no use too," the post went on.
"Usually found in England, America and turkey more than in Pakistan. All business, properties and family in London but still wants to be a prime minister in Pakistan. Currently in London consulting an ex corrupt president of Pakistan on how to save his corrupt assets and save his ass," the listing concluded.
There was, however, one catch. The seller expressed inability to deliver to India. The listing was removed a few hours after it went viral.
Last Updated Mar 31, 2018, 6:42 PM IST