India will ratify Paris Climate Agreement on 2 October: PM Modi
India's ratification of COP 21 coincides with the birth anniversary of Mahatma Gandhi.
PM Modi invoked Deendayal Upadhyaya while making the announcement on Climate Change Agreement.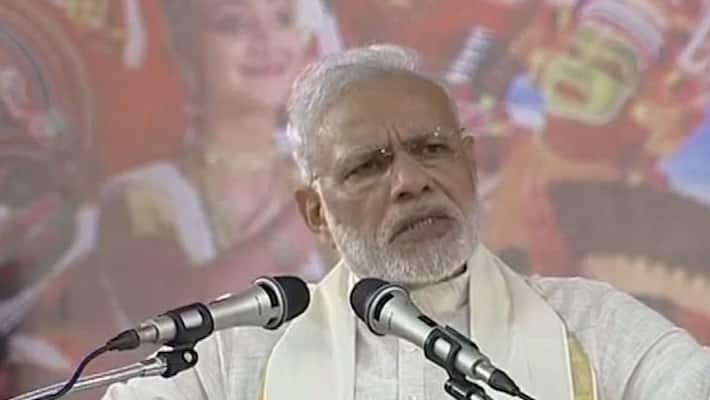 In an announcement that would give a boost to the global attempts to check climate change, Prime Minister Narendra Modi has stated that India would ratify the Paris Climate Change Agreement (COP 21) on 2 October. The ratification coincides with the birth anniversary of Father of the Nation Mahatma Gandhi. 
"On the birth anniversary of Mahatma Gandhi - on October 2- India will ratify the Paris Agreement on Climate, COP 21. Mahatma Gandhi's was a life of minimum carbon footprint," PM Modi said on Sunday while addressing Pandit Deendayal Upadhyaya's centenary celebrations held in connection with the BJP National Conclave at Kozhikode in Kerala. India's ratification of climate change treaty would also be a homage to the Father of the Nation, he said. 
Now we are all talking about Global Warming. But Deendayal Upadhyaya used to stress the need to protect the environment and respect it long back, Modi said. 
 
The COP 21 envisages to mitigate the emission of greenhouse gases globally and mandates the signatories to adopt measures to that end starting from the year 2020.  As many as 195 countries sat together and reached a landmark consensus in Paris on 12 December 2015. 

PM Modi stated that his government was committed to the welfare of the last person in the society.  "Deen Dayal Upadhyay ji said, Muslims shouldn't be treated as vote banks. They should not be looked down upon or rewarded. What they need is empowerment and development," he said. 

Reiterating that his party always stood by the ideals set by Jan Sangh and Upadhyaya, PM Modi said that the BJP never compromised the idealism of the parent party. 


 
Last Updated Mar 31, 2018, 6:38 PM IST