EgyptAir wreakage found in Mediterranean sea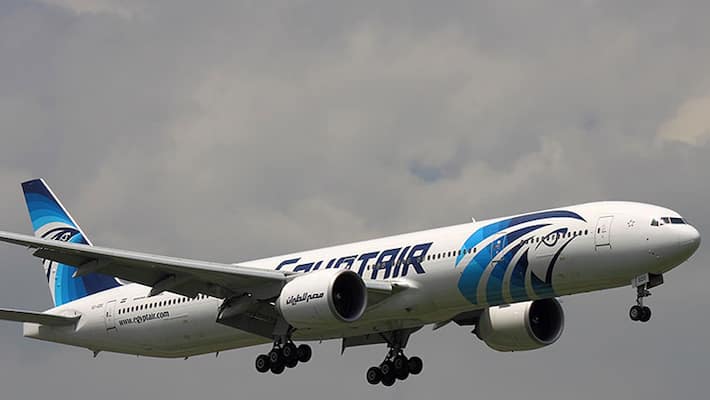 Egypt's military said its search teams found wreckage today from the EgyptAir plane that crashed in the Mediterranean with 66 people on board.
"Egyptian aircraft and navy vessels have found personal belongings of passengers and parts of the wreckage 290 kilometres north of Alexandria," its spokesman said on his
Facebook page.
An EgyptAir plane en route from Paris to Cairo carrying 66 people crashed into the Mediterranean Sea yesterday with the wreckage found off the Greek island of Karpathos as Egypt said the likelihood of a terror attack was stronger than technical problems that caused the tragedy.
EgyptAir has said that Egyptian Foreign Ministry has "confirmed finding the wreckage".
"The Egyptian Ministry of Civil Aviation has just received an official letter from the Egyptian Ministry of Foreign Affairs that confirms the finding of the wreckage of the missing aircraft No MS 804 near Karpathos Island," the airline said in a statement.
Karpathos is the second largest of the Greek Dodecanese islands, in the southeastern Aegean Sea.
"Family members of passengers and crew have been already informed and we extend our deepest sympathies to those affected.
Meanwhile, the Egyptian Investigation Team in co-operation with the Greek counterpart is still searching for other remains of the missing plane. Greek state television ERT reported that debris had been spotted some 425 km from Crete, about 100 nautical miles from the Airbus A320's last known location. A Greek frigate also discovered two large plastic floating objects and two life jackets in a sea area 370 kilometres south of the island of Crete.
Egypt's Civil Aviation Minister Sherif Fathi told a news conference that a "terror" attack was a more probable explanation for the disappearance of the EgyptAir flight than technical failure.
Asked whether a technical failure was behind the crash, Fathi said, "On the contrary...if you thoroughly analyze the situation, the possibility of having a different action or a terror attack, is higher than the possibility of having a technical failure."
"We don't deny the possibility of a terror attack or a technical error," Fathi.
The plane was carrying 56 passengers -- including three children -- seven crew members and three security personnel.
Apart from 30 Egyptians, the plane was carrying 15 French passengers, two Iraqis and one each from Britain, Belgium, Kuwait, Saudi Arabia, Sudan, Chad, Portugal, Algeria and Canada.
Earlier, French President Francois Hollande confirmed that the EgyptAir Airbus A320 had "crashed".
"We must ensure that we know everything on the causes of what happened. No hypothesis is ruled out or favoured,"Hollande said in a televised address.
"Whether it was an accident or another hypothesis that everyone has on their mind -- a terrorist hypothesis... at this stage we must focus on our solidarity with the families and the search for the causes of the catastrophe," he said.
Last Updated Mar 31, 2018, 6:58 PM IST