US Presidential election: Trump trumps in Indiana, Cruz bows out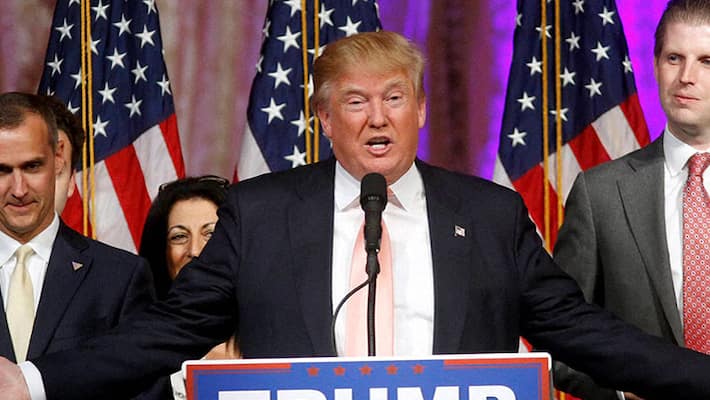 Donald Trump has won the Indiana primary and became the presumptive Republican presidential nominee, something no political pundits predicted when the billionaire real estate mogul joined politics and announced his race to the White House last June.
"I am honoured to be the presumptive nominee for the Republican Party. It is time to unite our party and defeat Hillary Clinton," Trump yesterday said in a message to his supporters after winning the Indiana primary, where he got more than 52 % of the votes polled.
His main rival, Senator Ted Cruz trailed behind by more than 16 points. Cruz later announced to drop out of the Republican presidential race.
Soon thereafter, the Republican National Committee (RNC) chairman Reince Priebus said that Trump would be the presumptive nominee.
"We are going to make America great again," a confident Trump told supporters at his campaign headquarters in New York as he announced to take on Clinton, his potential Democratic rival in the November presidential elections.
"We are going after Hillary Clinton. She will not be a great president. She will not be a good president. She would be a poor president. She does not understand trade," Trump said, giving a brief glimpse of his campaign against the Democratic presidential nominee.
In his remarks, Trump described Cruz as a tough competitor and appreciated his decision to withdraw from the race.
"I want to congratulate Ted Cruz. He is a tough smart competitor," he said of the Texas Senator with whom he had a bitter exchange of words hours before the result of the Indiana primary.
"Ted Cruz is one hell of a competitor. He is an amazing guy. He has got an amazing future. He is one tough competitor," Trump said.
In his speech that lasted for a little less than 20 minutes, Trump talked about uniting the party and focusing on trade and economic issues.
"We are going to bring back our jobs," Trump said as he warned the US companies with consequences" if they moved out of the country.
Trump, a New York-based real estate mogul who made money from constructing buildings, and a popular reality television star, joined politics about 10 months ago.
Last Updated Mar 31, 2018, 6:50 PM IST