Beginning of AIADMK merger with the end of Chinamma's rule
The first step towards a merger with TN Minister pointing to AIADMK's unity
Also suggesting the isolation of Sasikala and her family pointing to the end of Chinamma's game
How will numbers and posts play out between the two factions?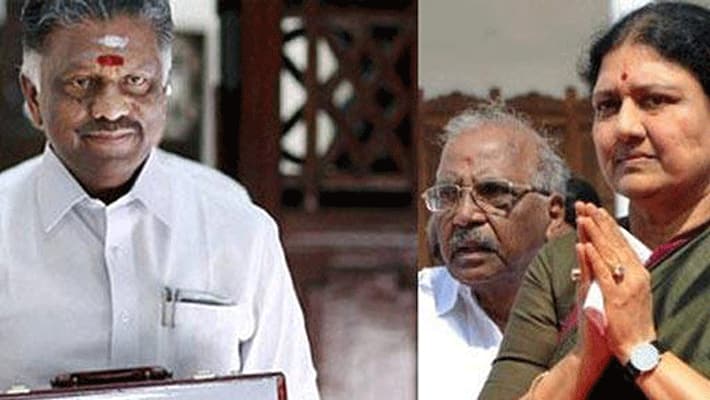 The prelude to a merger in AIADMK is witnessed now in Tamil Nadu politics. Another master brainstorming session with 13 ministers was held on day 2 post the bribery charges clouding party's deputy general secretary TTV Dinakaran. The state's finance minister Jayakumar said,"AIADMK will continue functioning without the family's (Sasikala's) dominance. A committee will be formed to run the party further."
O Paneerselvam had earlier said that his faction will be ready to hold talks only if Sasikala and her family remain isolated and a probe on TN's late CM Jayalalithaa's mysterious death is initiated. Ministers like Thangamani, Manikandan, Dindigal Srinivasan were all part of this meeting, standing by Jayakumar. Another important minister KA Sengottaiyan was part of this session, yet was not seen along with Jayakumar, while speaking to the media.
While Sengottaiyan's individual stand still remains a mystery, MLAs like Vetrivel said the party cannot oust TTV Dinakaran and Sasikala. Most of the MLAs had earlier suggested that an opinion from TTV Dinakaran regarding merger will be sought. But with this decision of Mannargudi family's seclusion brewing among ministers, reaction of TTV Dinakaran will play a pivotal role in AIADMK's future course.
While the cadres in AIADMK may support the merger, the resolution of the 122 MLAs who stood by E Palaniswamy under TTV Dinakaran's leadership is still elusive. OPS faction wants all the three important posts - Presidium Chairman, General Secretary and Chief Minister. Will the EPS-OPS dynamics play out smooth and mark the end of Sasikala and family?
From this side of the spectrum, it seems like a change in just the remote control from Bengaluru central prison to the national capital. When those ministers who vehemently supported Sasikala and TTV Dinakaran are now vociferously speaking against them, plainly signify that the political drama is being scripted elsewhere. An official statement is awaited. Or are they going to make that theatrical move yet again in the most traditional manner from none other than Amma memorial?
Last Updated Mar 31, 2018, 6:58 PM IST