Ancient idols returned by US produced in TN court
Four ancient stolen temple idols returned to India among the 200 cultural artefacts
Estimated to be worth $100 million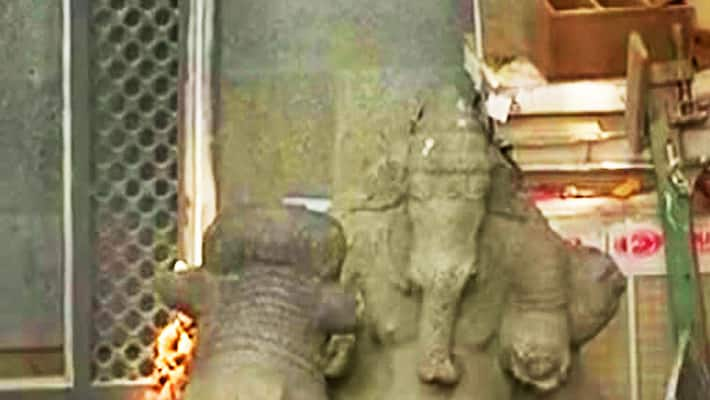 Tamil Nadu idol wing police produced the idols of Hindu deities dating back to the Chola Period of 11th – 12th Century AD before Additional Chief Judicial Magistrate S Baskaran.


These included a statue of Saint Manikkavichavakar, a Hindu mystic and poet from the Chola period (850 AD to 1250 AD), valued at USD 1.5 million, and a Lord Vinayakar idol estimated to be 1,000-year-old, which were returned by the US government at a function in Washington on June 7 attended by Modi.
 

The US had returned over 200 stolen cultural artefacts, which are estimated at USD 100 million.  The four idols were part of the 28 antique idols stolen from two temples in Sripuranthan and Suthamally villages in Ariyalur district during 2006 and 2008 and subsequently smuggled out of the country. They were illegally exported to USA at the behest of New York-based Subash Chandra Kapoor, an alleged kingpin of an international racket in antiques.  Idol wing police, investigating the theft of idols, arrested Kapoor after his extradition from Germany with the help of Interpol in 2012.
Besides, the artefacts returned by the US, an idol of Goddess "Bhoodevi" and "Chakrathazvar" were produced in the court after they were identified by priests and locals of the respective temples earlier.


Judge Baskaran registered the details of the idols and ordered them to be kept at the icon safety centre at the Nagesawaran Temple here.  Idol wing DSP Ashok Nataraj told reporters that so far seven of the 28 idols stolen from the temples in Ariyalur had been recovered.
 

 "The rest of the idols are in the Kapoor Museum in America and we are in the process of recovering them," he said.  Idol wing Inspectors Natarajan and Ravi were also present in the court. 
Last Updated Mar 31, 2018, 6:35 PM IST