Amit Shah stings Mamata Banerjee on Narada Sting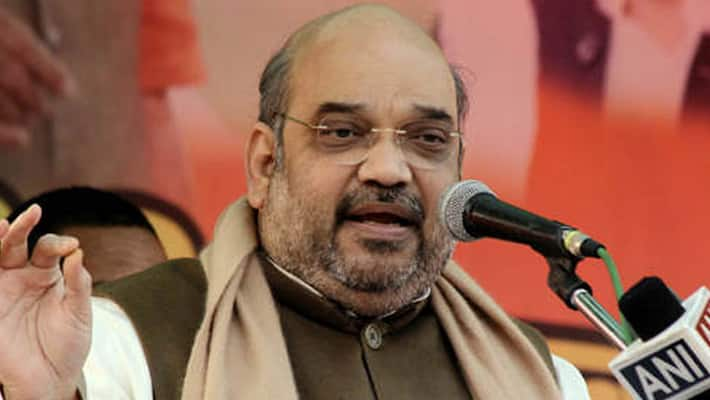 While campaigning in Kolkata yesterday, the BJP President Amit Shah made scathing remarks on Mamata Banerjee's government.
Referring to the Narada sting operation, Shah said he had never seen anyone taking money so shamelessly.
On the recent collapse of Vivekananda Road flyover in the city that killed 27 persons, he said the Trinamool government could have cancelled the contract for the building if as they said they were "unhappy" with the project.
"The flyover didn't fall due to wind. It collapsed because of the syndicate. All materials - cement, iron, etc are supplied by Trinamool. The flyover is a symbol of corruption," he alleged.
He also said if voted to power, BJP would stop infiltration from neighbouring Bangladesh into West Bengal.
"Neither Trinamool nor CPI(M) stopped infiltration of Bangladeshis to India as it is part of their agenda for creating vote bank," he said at a public meeting here.
 Taking a dig at Congress vice-president Rahul Gandhi who shared the stage with veteran CPM leader and former chief minister Buddhadeb Bhattacharjee in the city, Shah mocked that tomorrow in their meetings in Kerala, the two parties will be facing each other.
"When elections are going on at the same time in the same country in two different places, you have an alliance in one state and in another, they are fighting each other. Is it the fight of principle or for getting the chair?" Shah said.
Shah was campaigning for BJP candidate Chandra Bose, grandnephew of Netaji Subhas Chandra Bose, who is pitted against Mamata Banerjee from the Bhowanipore seat in south Kolkata.
"This is your opportunity to pay tribute to Netaji. Voting for one seat in Bengal can change the whole state," Shah appealed to the voters.
Last Updated Mar 31, 2018, 6:59 PM IST