OnePlus 11R Solar Red 5G to launch in India on THIS date; Check specs, other details
OnePlus has just introduced the OnePlus 11R Solar Red 5G. The phone comes with an impressive 18GB RAM and a 50-megapixel primary camera. Check out expected features, specifications and more.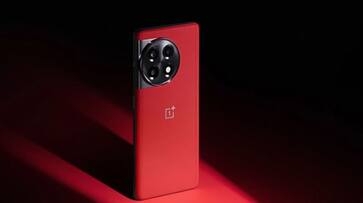 OnePlus has established a distinct market segment for smartphones. Additionally, the company has a treat in store for all of its consumers in advance of this holiday season. The OnePlus 11R Solar Red 5G, which has an amazing 18GB of RAM, has been unveiled by the company in India. The gadget is attractive and comes with a leather back panel to enhance the user's grip. It is coloured in OnePlus' signature red hue. 
On its website, OnePlus announced the release of the new smartphone. The phone is introduced on a new home page, which also indicates that it will be on sale in India starting on October 7. If you click on the little Notify Me button on the landing page, OnePlus will notify you when the phone goes on sale in India.
"The OnePlus 11R 5G Solar Red builds upon the hardware prowess of the original OnePlus 11R 5G by boosting its specifications. With a generous 18GB of RAM and a spacious 512GB of ROM, this device provides ample room for your digital life," the company said in a press release.
The phone's release will take place in conjunction with Amazon's Great Indian Festival and Flipkart's Big Billion Days event. Customers may take advantage of attractive bargains on a variety of electronic devices, including smartphones, laptops, household appliances, etc., from both e-commerce platforms.
The leather back finish of the OnePlus 11R Solar Red features the company's signature red colouring. Users should have a better grip as a consequence of the fake leather finish. The phone sports a 50-megapixel main camera and a Snapdragon 8+ Gen 1 CPU. With 512GB of storage and 18GB of LPDDR5X RAM, the phone appears to function fairly well.
The device is powered by cutting-edge RAM-Vita technology, which was taken from the OnePlus 11 series' flagship model. The 44-app cap of the 16GB version is reportedly exceeded by OnePlus' promise that the phone can run up to 50 applications simultaneously without stuttering. The phone has a big 5000mAh battery and a 100W SUPERVOOC charger, to speak about batteries. According to the manufacturer, the phone can charge from zero to one hundred percent in just 25 minutes.
Last Updated Oct 3, 2023, 6:05 PM IST