iPhone 15 series: Colour matching, braided USB Type-C charging cable could be 50% longer
iPhone 15 series: The iPhone 15 lineup could come with a braided USB-C charging cable that is 50% longer than the Lightning cable that comes with current iPhone models, according to new reports.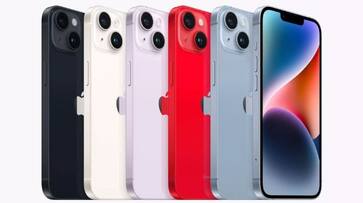 The release of the Apple iPhone 15 is quickly approaching, and every day brings a fresh rumour. Rumours claim that Apple will replace the Lightning connector on the iPhone 15 with a USB Type-C port this time. Users would be able to use the same charger they have for their iPad or MacBook to power their new iPhone thanks to this.
According to various media reports Apple will provide braided USB-C cables that are colour coordinated. In contrast to the present one-tone white charging cord that comes with every iPhone, this would be a pleasant change.
Also Read | WhatsApp update: Messaging app to allow users to create groups without naming them
The color-coordinating charging cords are expected to come in white, black, yellow, purple, and orange. The cords would reportedly be 50% longer than the ones we now see with iPhones and will be braided for longevity. The new charging cable, according to Kosutami, will be 1.5 metres long. Apple's Lightning to USB cord currently measures 0.5 metres.
The next iPhone 15 series is expected to debut from Apple sometime in September 2023. Although the source claims that the new Type-C cable would be available in a variety of hues, it is not known if all models in the lineup will include charging cords that match the colour of the device.
Also Read | iOS 17 update to release in September; Is your Apple iPhone compatible?
Apple's switch to USB Type-C is in accordance with the European Union's warning about the company's use of universal chargers. It requires USB-C charging ports on all wired-charging devices, including the iPhone.
The iPhone 15 is also believed to include a lightweight titanium casing with gently curved edges, in addition to braided and color-coordinated USB-C connections. The Pro and Pro Max variants are anticipated to have 1.5mm thinner bezels. The phone will, however, be bulkier than earlier iterations. It is anticipated to be 8.25mm in size. Apple is also rumoured to replace the physical mute button with an Action button that would reportedly carry out nine different activities. The powerful Bionic A17 chip may power the Pro versions.
Also Read | Apple iPhone 15 series to come in new colours with matching cables: Report
Last Updated Aug 24, 2023, 1:04 PM IST