WhatsApp update: Messaging app to allow users to create groups without naming them
WhatsApp will now let you create group names based on the participants in them and will no longer need you to compulsorily name them. Meta notes that this new feature will be rolling out over the next few weeks, and it's meant to help when you need to make a group quickly and don't want to think of a name.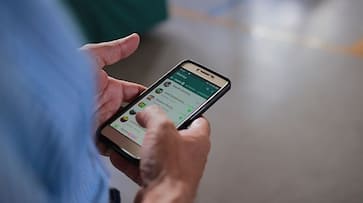 WhatsApp is now letting users make groups without giving them a name. Mark Zuckerberg shared this news on his official Meta channel on Instagram. Announcing the new feature, Mark Zuckerberg said that WhatsApp is making it "simpler to start WhatsApp groups by naming them based on who's in the chat when you don't feel like coming up with another name."
This new function, according to Meta, is intended to be helpful when you need to create a group fast and don't want to think of a name. It will be rolled out over the next weeks. Currently, naming a group is required before you can start conversing.
Also Read | Honor 90 to release in India soon, may cost under Rs 40,000: Report
Although this makes things easier, WhatsApp nevertheless wants you to know that your privacy is still crucial. Each person's group name may vary depending on how they saved their contacts on their phone, which is why. You will only see other people's phone numbers if you are in a group with them and don't know them or have their numbers stored.
So, let's say you have a special nickname for your friend that only you use. Other people in the group won't see that name. They'll see whatever name they have saved for that contact.
In related news, WhatsApp recently revealed that users would be able to exchange photos in "HD." Users may now take a photo and transmit it in high definition to their contacts thanks to the new functionality. The functionality is being progressively rolled out after being introduced last week. You will need to select the HD option when emailing images because the regular photo quality option will still be the default.
Also Read | iOS 17 update to release in September; Is your Apple iPhone compatible?
Last Updated Aug 24, 2023, 10:37 AM IST