Apple unveils 14-inch and 16-inch MacBook Pro with M3 chips; Check specs, price & more
Apple announced three new chips, all under the broader M3 product banner. The current generation of chips is the M2. There is an entry-level M3, a 40% faster M3 Pro, and a 250% faster M3 Max chip for AI developers and 3D artists.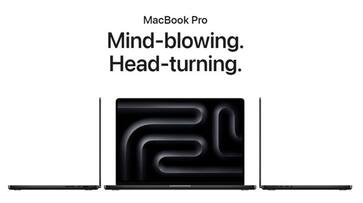 Fans of Apple should rejoice as the US-based tech giant said on Tuesday that the new 14- and 16-inch MacBook Pro models with the newest three M3 chipsets will be available in India and other countries. The new M3, M3 Pro, or M3 Max CPUs power the MacBook Pros that were unveiled at Apple's "Scary Fast" presentation.
Along with a built-in 1080p camera, an immersive six-speaker sound system, a Liquid Retina XDR display with 20% brighter SDR content, and a plethora of networking possibilities, the new MacBook Pro models measure 14.4 and 16 inches. The most recent MacBook Pro models have a battery life of up to 22 hours.
Apple says that these MacBooks, running macOS Sonoma, are tuned for gaming and can handle even new AAA blockbusters like Baldur's Gate 3. The new computers from Apple now offer real-time ray-tracing. Additionally, Apple claims that the M3 CPUs include a quicker and more efficient next-generation GPU.
Also Read | Apple introduces 24-inch iMac with M3 chip in India; Check specifications, price & availability
It has a brand-new innovation dubbed Dynamic Caching. Dynamic Caching allots the usage of local memory in hardware in real time, in contrast to conventional GPUs.
Only the precise amount of RAM required for each job is consumed when using dynamic caching. The most demanding professional apps and games operate noticeably better because to the considerable increase in GPU usage on average. The business claims that the new MacBook Pro models outperform 13-inch M1 MacBook Pros by 60% and outperform MacBook Pros with Intel Core i7 processors by 7.4 times.
According to Apple, the MacBook Pro with M3 Pro offers even better performance, accommodates more unified memory, and is now up to 40% quicker than the 16-inch model with M1 Pro.
Also Read | JioPhone Prima 4G launched in India at Rs 2,599: Check features, price & availability
The starting price for the MacBook Pro with M3 is Rs 1,69,900, while the pricing for the 14-inch MacBook Pro with M3 Pro is Rs 1,99,900. The starting price of the 16-inch MacBook Pro with M3 Pro is Rs 2,49,900. Additionally, a Space Black colour option is now offered for the most recent MacBook Pro models.
Customers in India may place orders for the new MacBook Pro on apple.com/in/store as of right now, the firm reports. Starting on Tuesday, November 7, it will start to arrive for customers and be available at Apple Store locations and Apple Authorised Resellers.
Also Read | Apple employee receives 'award' from CEO Tim Cook after working 10 years | WATCH unboxing video
Last Updated Oct 31, 2023, 12:07 PM IST