Zindagi Na Milegi Dobara 2 happening? Farhan Akhtar hints at potential sequel; READ
'Zindagi Na Milegi Dobara' sequel hints spark excitement among fans as Farhan Akhtar and Hrithik Roshan's playful exchange on social media fuels anticipation.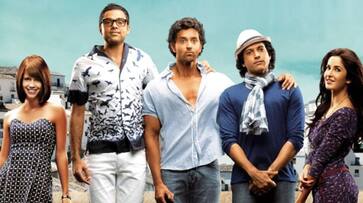 "Zindagi Na Milegi Dobara," directed by Zoya Akhtar and featuring Hrithik Roshan, Farhan Akhtar, and Abhay Deol, has garnered a devoted following and achieved classic status as the years have passed. The film's enduring appeal can be attributed to its captivating atmosphere, memorable moments, and its profound underlying message. The movie revolves around three close friends embarking on a bachelor's trip to Spain. Struggling with their own personal challenges, the film delves into their transformative journey of self-discovery during this adventure. The title, "Zindagi Na Milegi Dobara," directly translates to "You won't get this life again" or "You only live once." This phrase encapsulates the lesson the characters learn as they explore their inner selves during their journey.  Originally released in 2011, fans continue to eagerly await a sequel from the creators.
Farhan Akhtar, a prominent member of the film's cast, recently shared a photo on his social media account where he strikingly resembled his character "Imraan" from the movie "Zindagi Na Milegi Dobara." In the caption of the post, he tagged the film's director, Zoya Akhtar, and playfully inquired whether "The Bwoys" should set off on another road trip. This reference to "The Bwoys" harks back to how the three main characters were affectionately called in the movie, further fueling speculation about a possible sequel. He penned "The Imraan look comes full circle. What say @zoieakhtar ..? Should the Bwoys head on another road trip .. 😉"
Adding more weight to this hint, Hrithik Roshan, another leading actor in the film, enthusiastically commented, "Lesssss goooooo!!!! 🕺🏻" on the post, intensifying the anticipation among fans. As soon as Farhan posted this picture, numerous fans expressed their eagerness with resounding "Yes" responses, awaiting official confirmation. They are hoping that this news indeed holds true. While one fan wrote "Waiting for years" another said "Please yes please 🙌🙌🙌" . Replying to Hritik Roshan's comment one fan even commented "@hrithikroshan DON'T GIVE ME HOPESSSSSS", which indicates fans' excitement and hope for a sequel. 
In terms of their current professional endeavors, Farhan Akhtar recently announced much anticipated film "Don 3," featuring Ranveer Singh, while Hrithik Roshan is actively filming "Fighter" alongside Deepika Padukone.
ALSO READ: Is Shahid Kapoor taking potshots at Akshay Kumar? Actor's video clip goes VIRAL
Last Updated Oct 17, 2023, 2:08 PM IST