World Cup 2023: Did Naseerudin Shah call Virat Kohli 'worst behaved'? Here's what we know.
In 2017, Naseeruddin Shah's controversial remarks on cricketer Virat Kohli's behavior sparked a fan backlash and debate. Kohli's fans demanded an apology, while Shah defended his stance.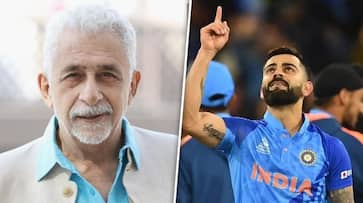 In preparation for the 2023 World Cup, cricketer Virat Kohli found himself at the center of controversy due to veteran Bollywood actor Naseeruddin Shah's critical remarks about him. Shah's comments, made in 2017, labeled Kohli as both the world's best batsman and the worst-behaved player. This statement did not sit well with Kohli's loyal fan base, leading to a strong backlash against the actor.
Shah's words ignited a heated debate online, with some fans even suggesting that if he had such strong objections to the Indian cricketer, he should consider leaving the country. Despite the widespread attention his statement received, Virat Kohli chose not to respond publicly.
Naseeruddin Shah's social media post from 2017, in which he made the controversial remarks, underscored his admiration for Kohli's cricketing skills while also condemning his on-field behavior. Shah wrote, "Virat K is not only the world's best batsman but also the world's worst-behaved player. His cricketing brilliance pales beside his arrogance and bad manners. And I have no intention of leaving the country, by the way."
Interestingly, the cricketer refrained from offering a direct response to Naseeruddin Shah's critique, allowing the controversy to simmer online. Kohli's passionate fan base rallied behind him, calling on the veteran actor to retract his words and issue a public apology. However, it's worth noting that there were individuals who, shockingly, concurred with Shah's assessment that Virat was indeed the worst-behaved player.
In one of his interviews, Naseeruddin Shah elaborated on his stance, expressing his admiration for Virat Kohli's cricketing prowess while urging him to exhibit more dignified behavior on the field. During an interview with India Today, Shah remarked, "I have always admired Virat's game; I am not a fool; I know a bit about cricket. I have not admired his on-field demeanor, and somebody should tell him it's pretty simple to lip-read in super slow motion. He should really think of what kind of example he is setting."
Virat Kohli, the renowned cricketer, and his wife, Bollywood actress Anushka Sharma, are generating significant buzz due to reports of their impending second child. Currently, the couple is said to be in the midst of the second trimester of Anushka's pregnancy, with an official announcement anticipated in the near future.
Amid the preparations for the 2023 World Cup and during practice matches, Virat Kohli had to abruptly return to Mumbai due to a personal emergency. This development understandably raised concerns among fans, especially in light of the news about Anushka's second pregnancy. However, Anushka Sharma chose to convey her response in a cryptic manner on social media. In a post, she alluded to the issue of judgments, which appeared to be a subtle reaction to the ongoing speculation surrounding her personal life.
Regarding Anushka Sharma's presence at the World Cup 2023, it remains uncertain whether she will be able to attend and cheer for Virat Kohli. Speculation is rife that she might opt not to be in the stands during the tournament. This decision stems from the couple's long-standing commitment to keeping their private life discreet, including their first child, Vamika, whom they have shielded from the public eye. Consequently, they may wish to avoid further stoking the rumors and attention surrounding their personal affairs.
ALSO READ: Mission Raniganj REVIEW: Is Akshay Kumar, Parineeti's film on Raniganj Coalfields collapse worth watching?
Last Updated Oct 6, 2023, 11:16 AM IST