Aaradhya wanted to adopt a stray cat, but grandfather Amitabh said no, as he doesn't like cats.
Amitabh loves dogs: He had a Piranha Dane dog, named Shanouk, which died on June 6, 2013.
Big B is currently busy with two projects Thugs Of Hindostan with Aamir Khan and 102 Not Out with Rishi Kapoor
We all know, megastar Amitabh Bachchan regularly greets his fans and media on every Sunday outside his house, Jalsa in Mumbai and this time he was joined by his daughter-in-law Aishwarya Rai and granddaughter Aaradhya. 
Later, Big B shared a few photos of Aaradhya during the fan meet on his official blog on 28th May night. In his blog, he narrated that how Aaradhya was a little reluctant to greet his fans. The actor wrote in his blog, "And the reluctant little one finally agrees to come out to greet the well-wishers .. but is disturbed by the crowds and admits she was a little afraid to be up there .. her main attraction being her new pet the stray cat whom she has named 'salt pepper (sic)".
He wrote in the blog, "She (Aaradhya) asked me to pet it and I told her I did not like cats, so she was surprised that I did not .. there is another one she said .. her sister .. the cats sister .. and wondered if I would consider liking the sister .. I said no .. I think I lost out a number of brownie points from her today (sic)"."
We all know Amitabh loves dog he had a Piranha Dane dog, named  Shanouk, who died on 6th June 2013. Bachchan loved to spend time with his Piranha Dane, one of the world's tallest dog breeds. In one of this blogs, he explained means of Shanouk 'a gentle warm breeze on a cold morning' and it was named by the actor's son Abhishek.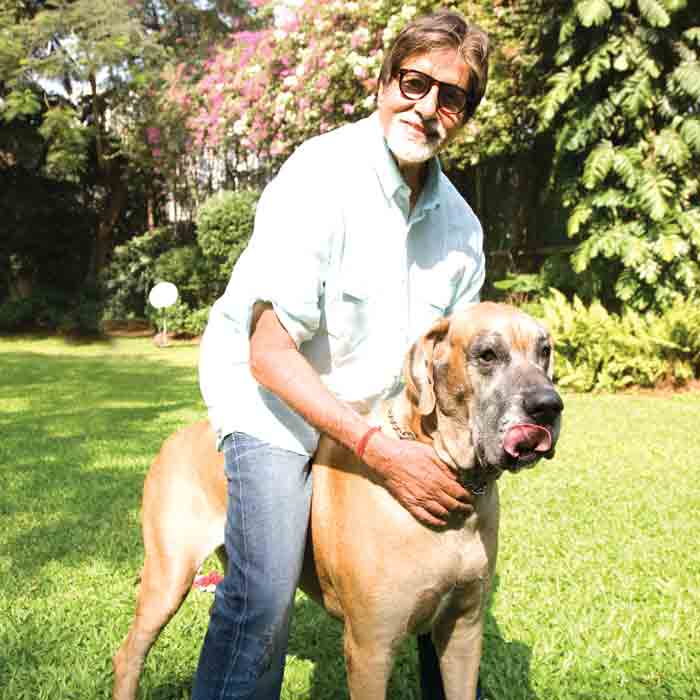 Last week, Big B tweeted about Aish and Aaradhya's looks in Cannes, he posted a picture of the mother-daughter duo and captioned it, "T 2434 – Bahurani aur hamari Rani .. !!!" This photo was followed by a Cannes's official video of Aishwarya, Aaradhya that looked beautiful. The video and this particular picture had been circulating in social media for a long time before the megastar tagged it as his favourite, and we cannot agree more. 
Meanwhile, Amitabh is currently busy with two projects Thugs Of Hindostan with Aamir Khan and 102 Not Out with Rishi Kapoor.