What is Aishwarya and Jayalalithaa's connection?
Mani Ratnam made a film on Jayalalithaa, MGR and Karunanidhi
The film starred Aishwarya, Mohanlal and Prakash Raj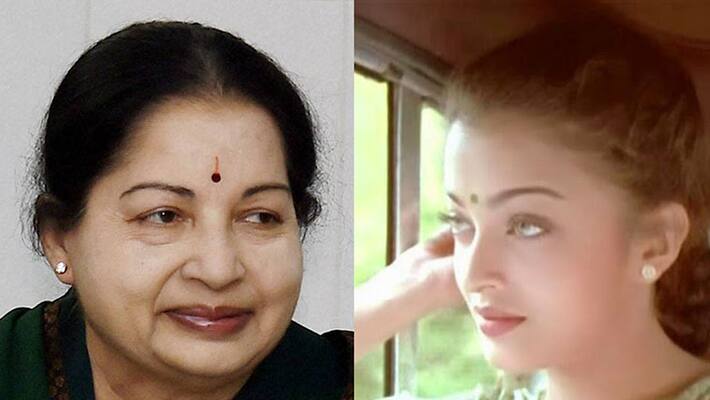 Bollywood actress Aishwarya Rai Bachchan had made her Tamil film debut with Mani Ratnam's 'Iruvar,' where Aishwarya portrayed a double role in the film. The film had Mollywood's superstar Mohanlal playing the role of MG Radhakrishnan, Jayalalithaa's co-actor and future political mentor.

Aishwarya, who had a double role in the film, had been noted for her grace and poise. One of the roles in the film required her to play Mohanlal's first wife who dies in an accident. She later appears in the film as a movie star who then gets involved in Mohanlal's political campaign and also had a love affair with him while he is still married to another woman.
 
The film, as we know, was based on Jayalalithaa's life – her acting career, personal ties with MGR and her political career. Jayalalithaa was a noted Tamil actress of the 60s and 70s, before she moved into politics. Prakash Raj had played M Karunanidhi's role.

Mani had a tougher time casting for the role inspired from Karunanidhi. First, he wanted Nana Patekar for the part. He also approached Mammootty, Kamal Haasan, Sathyaraj, Mithun Chakraborthy, Sharathkumar etc, but all turned the role down, which would then go to an unknown Kollywood actor Prakash Raj. The actor went on to win the National Award for Best Supporting Actor for the movie and Aishwarya won immense appreciation for her portrayal of Jayalalithaa.

The movie also stars actor like Nassar, Revathy and Gowthami. Tabu had a small role to play as Prakash Raj's muse. 

The movie later landed in a lot of controversy as it did not go down well with the fans and followers of Jayalalithaa and Karunanidhi and so people were called to boycott the movie. Hence, the film could not be a commercial success, though it was touted to be one of Mani Ratnam's best films.
Watch the movie here:
Last Updated Mar 31, 2018, 6:39 PM IST