We were on a break: Virat 'wears' all about Anushka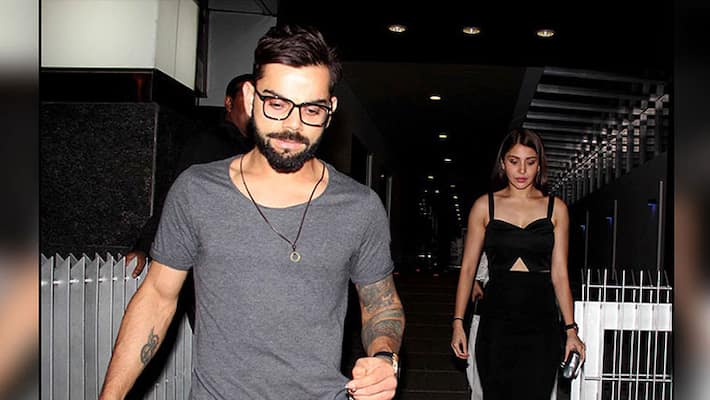 Soon after the couple visited Salman Khan's residence together, Virat it seems has decided to break the news through his 't-shirt'. Yes, you read it right. Virat it seems has found out an innovative way to clear the air. The cricketer was recently spotted wearing a t-shirt that read 'We were on a break'. Now, for all the Friends fan out there this secret code just can't go unnoticed and for the rest, we're sure the message is not very difficult to deduce. If the news is indeed true, this is a big ray of hope for all the Anushka and Virat fans out there.
Let's also take a look at what transpired between Virat and Anushka while they were on a break.
While we all thought that Anushka Sharma and Virat Kohli were meant to be together and this power couple would reinforce our belief in love, the news of their split shattered many of us. Though Anushka maintained a stoic silence and kept herself occupied with work commitments, Virat it seemed was finding it too difficult to get over her. And his  social media behaviour actually made us wonder if he was still hung up on Anushka.
Soon after the news of their split broke out, conspiracy theorists had a field day deducing the actual reason behind the split. Social media went abuzz pleading them to get back together.  While Virat fans blamed Anushka for being "too bossy", many blamed Virat for his "flamboyance." But it was Virat's Instagram post that finally sealed the questions on their breakup.
A week after the news of their breakup started making rounds, Virat unfollowed Anushka on Twitter and Instagram. But this did not go unnoticed by his fans. Soon after this, Virat uploaded a picture of himself and captioned it "Heartbroken." Now whether it was media frenzy or something else, but Virat deleted that image soon after uploading it, only to re-upload it after some time again.
Well, if you thought this was the last nail in the coffin, brace yourself for what happened next. As per a Mumbaimirror report, Virat was spotted enjoying his single status to the t at Angad Bedi's birthday bash. Not only did Virat hit the dance floor and grooved all night but was also reported telling someone at the party that he had a "controlling girlfriend."
A number of theories floated in media as the reason behind them heading towards splitsville, the major one being Anushka's refusal to Virat's marriage proposal. Apparently, Virat wanted to settle down soon but his ladylove, who is riding high on her career achievements these days turned it down. What made it worse was the way she turned him down, reports suggest. Many said the actual reason behind their split was the lack of personal time and overachieving career goals.
Last Updated Mar 31, 2018, 7:03 PM IST