The Archies: Karan Johar slams nepotism debate in heartfelt note for Zoya Akhtar; says "She waited 7 years..."
Karan Johar lauds Zoya Akhtar's journey, as he shares 'The Archies' trailer on Instagram. Reflecting on Zoya's resilience and conviction, he celebrates her impactful contributions to cinema.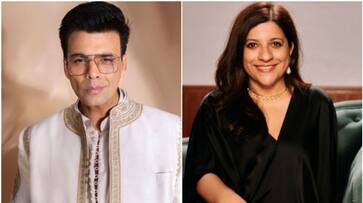 Today, Netflix India unveiled the highly anticipated trailer for 'The Archies,' a cinematic extravaganza directed by Zoya Akhtar and produced by Tiger Baby, Graphic India, and Archie Comics. This cinematic creation transports viewers to the enchanting realm of 1960s Riverdale, reimagined in the Indian context. Karan Johar, expressing his admiration for the talented filmmaker, took to his Instagram handle on Thursday to share the trailer and pen a heartfelt note for Zoya Akhtar.
In addressing the nepotism debate, Karan Johar emphasized that despite Zoya Akhtar having familial ties within the industry, it still took her seven years to secure her inaugural film project. He said "Zoya and I grew up together…she was the wiser one, the smarter one and still is! She waited 7 years to start her first film (so much for nepotism and privilege), she had more actors turn her down than most tables at high end restaurants. She still, with passion and perseverance, got to make Luck By Chance…which was the most critically acclaimed film of that year but didn't have that luck at the box office." 
He continued, "She then directed my favourite ZO Akhtar film ZNMD, keeping her conviction intact (was told to edit it tighter, remove driving shots in a "road trip " film, add an item song). She listened to her inner voice and not anyone else and made a super hit award winning film!"
Ending his note Karan Johar praised Zoya for her conviction, "Everyone has a journey! She has had her one! After the monumental success of Gully Boy the world was at her feet but her weapon of belief took her back to her childhood memories of her favourite comic book! She could have made a film with an ensemble of superstars but she made what she believed in! Zo! The trailer is reflective of everything you stand for, which is YOUR paramount conviction! The 7 kids are blessed to work under your priceless guidance! So excited for you Zoya and the exciting ensemble of talent ! Welcome to the movies!!!!💜💜💜💜
The trailer of 'The Archies' unfolds a captivating musical narrative, featuring seven endearing characters drawn from the beloved Archie comics.  Before the trailer release, glimpses into the captivating universe of 'The Archies' were teased through engaging character posters, a tantalizing teaser, and the infectious tunes of "Sunoh" and "Va Va Voom." Each element served as a portal into the charming yet dynamic world of Riverdale, inviting the audience to immerse themselves in the nostalgia and vibrancy of this cinematic experience.
The movie is all set to hit the theatres next month on December 7.
ALSO READ: The Archies: Are Khushi Kapoor and Vedang Raina dating? Orry's instagram hints at possible affair
Last Updated Nov 9, 2023, 3:00 PM IST