Singham III vs Bhairavaa: Which is the better teaser?
Singham III teaser recorded 2 million views in 24 hours, Bhairavaa recorded 5 million in 4 days
Both are commercial, mass entertainers
What differentiates the two heroes and the two teasers?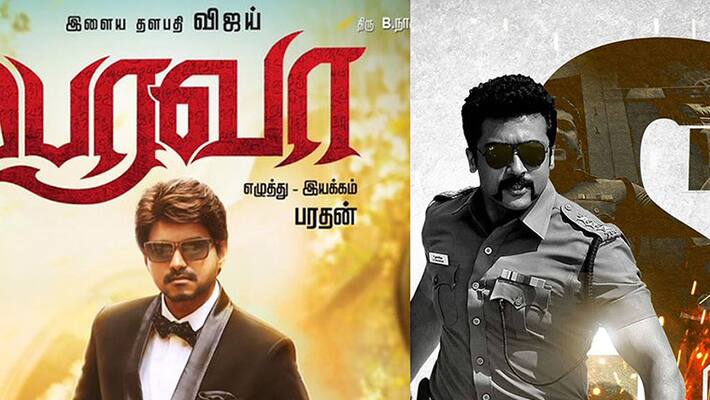 While Kollywood actor Vijay's Bhairavaa teaser opens with a stunt sequence rolling out in slow motion registering every droplet of the water that splashes,  the teaser of Singham III just zips past. If there's any director who can shoot even a teaser in fast forward mode, it's director Hari. It's only when you pause at intervals, do you see surprise in the form of playback singer Krish, who also features in the film.

The background score too has a slower pace in Bhairavaa as compared to Singham III. While the first two parts of Singham saw actor Suriya as a police officer in Tamil Nadu, Singham III takes him and the audience to AP. Suriya's uniform, the AP registration vehicle reflect that. But Bhairavaa seems to be set in Tamil Nadu entirely.

Both the films, going by the trailers, do not portray any of the top-rung comedians of Kollywood like Vivek, Vadivelu or even Santhanam. While there's actor Sathish in Bhairavaa, it's actor Suri in Singham. The Suri-Suriya combo has earlier been witnessed in the film Anjaan. Honestly, nothing to write home about.

Tollywood actor Jagapathi Babu plays the villain in Vijay starrer. However, Suriya will be fighting television star Thakur Anoop Singh, who plays the baddie. Director Bharathan wrote the dialogues for the film Gilli where Vijay plays the hero and actor Prakash Raj, the villain. Director Hari in Singham I had Suriya as the hero and Prakash Raj again as the villain. Prakash Raj as the villain in both enhanced the character of the hero. He surely will be missed in both these action films.

As far as Singham III goes, two top female leads Anushka and Shruti Haasan are in it. Actor Keerthy Suresh, acting opposite Vijay in Bhairavaa, is relatively new to the industry. While Vijay has acted with Anushka in Vettaikaran and Shruti Haasan in Puli, Suriya-Keerthy pair is yet to be seen on the silver screen.

There is one punch dialogue each of both the actors that traps them into one theme – hunting. Vijay in the film Vettaikaran says: 'Unaku ellaam police kaaran paththaadhu da. Vera. Vera. Vera. Vettaikaaran dhan da venum (meaning a police officer is enough for a beastly criminal like you. You need a hunter to hunt you down)'. And Suriya in Singham III says: 'Na paathadhellaam thingara onaa illa, pasicha mattu vettai adara singham. Ippo kola pasila irukken (I am not chameleon to eat everything that I see. Like a lion, I hunt to eat only when hungry. And right now I am ravenously hungry)'.

At the end of the day, both the teasers have been lapped up by their fans with 2 million views for Singham III in 24 hours after its release on Nov 7 and 5 million views clocked by Bhairavaa in 4 days of its release on Oct 29. While the teaser of Bhairavaa released two weeks before Singham III's, Suriya is set to roar in December, a month before Vijay's latest hits the screens.
Last Updated Mar 31, 2018, 6:56 PM IST