Raj B Shetty's upcoming film 'Swathi Mutthina Male Haniye' to hit theaters on November 24
'Raj B Shetty's movie 'Swathi Mutthina Male Haniye' is set for a November 24 release, marking actress Ramya's debut as a producer. The film features a talented ensemble cast and has faced legal title controversy, which was eventually resolved in favor of its production. Ramya expressed her hope for the audience to embrace this poetic love story.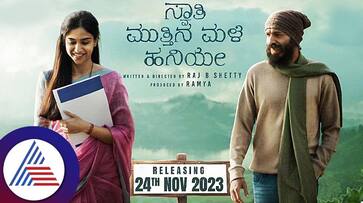 Raj B Shetty's movie 'Swathi Mutthina Male Haniye' is set to be released on November 24, bringing good news to eagerly awaiting fans. The film, which marks actress Ramya's debut as a producer, is being eagerly anticipated. The film stars an ensemble cast including Siri Ravikumar, Balaji Manohar, Raj B Shetty, Surya Vasishtha, Rekha Kudligi, Sneha Sharma, JP Tumminad, and Gopalkrishna Deshpande. It is produced by Applebox Studios in association with Lighter Buddha Films.
Actress Ramya, who is the debutant producer in the film, shared her enthusiasm emphasizing the invaluable lessons she has learned about filmmaking throughout the process. She expressed her hope that the audience would embrace the movie, which she described as a beautiful and poetic film that could redefine how people perceive true love.

Toby REVIEW: Is Raj B Shetty's action Kannada film worth YOUR time? Read this
The film boasts a soundtrack by Midhun Mukundan, cinematography by Praveen Sriyan, and editing by Praveen Sriyan as well. Initially, the film faced a legal controversy regarding its title, "Swathi Muttina Male Haniye," with director Rajendra Singh Babu objecting to its use. However, the court ultimately ruled in favour of Ramya, permitting the film's production to proceed.
Rajendra Singh Babu's claim centred on the allegation that the film title was borrowed from his movie "Bannada Gejje" without permission, as he had plans to use it for a project starring Ambarish. However, with Ambarish's passing, that project became infeasible. Despite the legal challenges, the court later lifted the title restriction, enabling the film to continue production and eventual release.
Last Updated Oct 24, 2023, 1:45 PM IST