Nana Patekar's co-star Rohit Choudhary backs him; urges online community to "stop trolling him"
In a video that gained widespread attention, Nana Patekar and fellow actors were filming their upcoming movie "Journey" in Varanasi when an unexpected fan approached Nana for a selfie. In response, Patekar delivered a forceful slap. The video quickly went viral, sparking a range of reactions from internet users.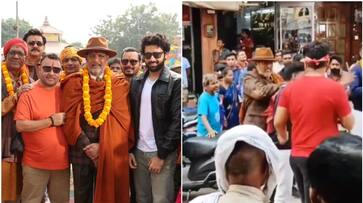 Renowned veteran actor Nana Patekar is currently getting ready for his upcoming project called "Journey." However, there's been some commotion online as a video of him seemingly slapping a young boy who asked for a picture recently went viral. This caused quite a stir in the online community. In response to the incident, actor Rohit Choudhary, who is rumored to be part of the same film, has spoken up about the controversy. He is asking people online to stop making fun of or criticizing Patekar after the actor posted a video saying sorry for what happened.
After the video of Nana Patekar spread on the internet, many people had different reactions on social media. Patekar himself went on his Instagram account to say sorry for what happened. Now, his co-star from the movie "Journey," Rohit Choudhary, is supporting him and telling people on the internet to stop making fun of him.
Choudhary is saying that Patekar's willingness to explain what happened shows that he is being honest and genuine. He points out that Patekar wants to find the boy and apologize to him. Choudhary believes that this should be the end of the discussion and that people should stop criticizing Nana Patekar. As reported by IANS, Rohit said, "He has mentioned in his video that he is looking for the boy so he can apologize to him. I feel this should end the discussion and this should stop trolling him. I have met Nana during the muhurat of the film and also spoken to him personally,"
Choudhary also talks about Patekar's reputation for resolving issues on film sets. He says that the whole city of Varanasi, where the incident happened, is supporting Anil Sharma and Nana Patekar. Choudhary assures that the movie's shooting is going well, saying, "The whole Benaras is in support of Anil Sharma and Nana Patekar. The film's shooting is going on smoothly."
Journey is an upcoming movie directed by Anil Sharma. It also features Utkarsh Sharma with Nana Patekar and Rohit Choudhary. The film is currently under production stage with shooting taking place in holy city of Varanasi, Uttar Pradesh.
ALSO READ: Emraan Hashmi to be back on Koffee With Karan? Here's what the Murder 2 actor said
Last Updated Nov 17, 2023, 4:54 PM IST