MUDDY: Vijay Sethupathi is all set for mud racing; fans to have never-seen-before experience
Tamil superstar Vijay Sethupathi releases the motion poster for India's First 4×4 Mud Race Movie 'MUDDY'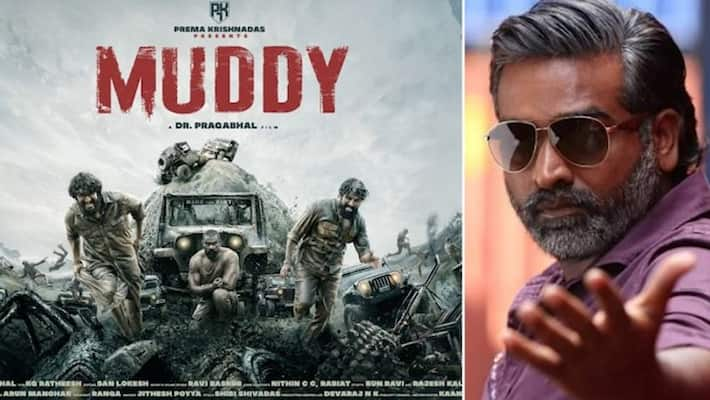 Kollywood actor Vijay Sethupathi releases the motion poster for MUDDY, a unique and never-seen-before experience!
Muddy is India's first off-road mud race film, an innovative and neven-seen-before experience with the idea of a debutant filmmaker, Dr Pragabhal, who is cinematically travelling the road less travelled by any filmmaker.
What is Mud racing? It is a form of off-road motorsport, and it is going to be enthralling to feel this with all the cinematic themes, 'Muddy' is unique, and that's what the fans are on the lookout for. 
Prema Krishnadas bankroll the film under the banner of PK7 Creations. An adventurous action thriller will prove to be second to none, born out of the director's love for off-road racing with which he has a close connection.
Pragabhal has done extensive research for five years, essaying a storyline on the rivalry between different teams. The film will have all emotions like revenge, family, drama, humour and adventure.
He says,"I trained the main actors in off-road racing, we didn't use any dupes. I wanted guys who were adventurous and willing to invest the necessary time and energy for the film."
The director also said in a statement, "The greatest challenge before me was introducing a sport like mud racing to the viewers without losing its thrill and punch."
Yuvan, Ridhaan Krishna, Anusha Suresh and Amit Sivadas Nair are the lead artists in the film. Harish Peradi, I M Vijayan and Renji Panicker will be seen in pivotal roles.

Mud racing in the film: 
It will be stunted in the mud were filmed realistically. The concept of mud racing being new to the Indian cinema and it's audiences, the film didn't have any references for the making, which also means production wasn't a cakewalk. This will be a new experience to the viewers, he added.
It is said that actors in lead roles spent two years to get real-time experience in mud racing. Also, it took more than a year for the director to explorer suitable locations. 
While there are three different Mud Race patterns in the film that are all choreographed by the director, costly modified vehicles were used to get the authentic mud race ambience. 
"Not just for a cinematography framing but for the people around the location to know about what a real off-road 4×4 Mud Race is, I've conducted a Mud Race event for 2 days" added Pragabhal. 
Reports also suggested that no dupes or stunt artists were used to execute adventurous stunts. 'Muddy' is a comprehensive action thriller in mud racing genre. They were giving the audiences a great story they can enjoy. 
KGF fame Ravi Basrur for music, Ratsasan fame San Lokesh for editing, Ranga and Hollywood fame KG Ratheesh for cinematography. The teaser of a film will be out on 26 February 2021.
Yuvan, Ridhaan Krishna, Anusha Suresh and Amit Sivadas Nair are the lead artists in the film and Harish Peradi, I M Vijayan & Renji Panicker will be seen in pivotal roles.
Last Updated Feb 20, 2021, 6:25 PM IST