Mammootty's latest post on his birthday goes viral; The new jersey look shocks the internet
Megastar Mammootty has shared a post on new jersey on the eve of his birthday. He is celebrating his 72nd birthday today. Actor's new look thrills fans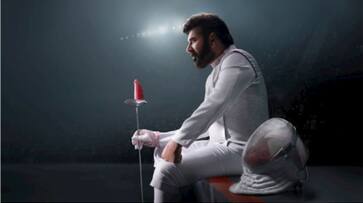 Kochi: Malayalam megastar Mammootty is celebrating his 72nd birthday today. He shared a big birthday surprise to his fans on the eve of his birthday through his social media page. The  actor posted a picture of him competing in fencing in a jersey, helmet, and sword. Social media has started a discussion about whether this is a still from his movie or an advertisement.
Mammootty has shared this picture on Facebook and Instagram by writing 'Touche'. It is a word used to compliment an opponent's move in fencing. Celebrity photographer Shani Shaki and director Martin Prakkat have been tagged along in this post.
Also read: Mammootty's Birthday: 6 Iconic movies of Malayalam Megastar
Many people have asked through the comments below the post whether it is the new movie directed by Martin Prakat or if it is still the brand's advertisement film. Anyway, on the eve of his birthday, this look has become the talk of the town.
Like every year on the occasion of Mammootty's birthday, blood donations are being made all over the world under the leadership of fan associations. The Mammootty Fans and Welfare Association has informed the media that, as part of the campaign that started on September 1, 7,000 blood donations have already been made. Around the world, 25,000 blood donations are made on this occasion.
Also, the trailer for Mammootty's new movie, 'Kannur Squad, is going to be released today. There is also a rumour among the fans that there will be updates to Big B's second part, 'Bilal'. The first look of 'Bramayugam' was released on Thursday morning. As of now, fans are celebrating the fencing look shared by their favourite actor on the occasion of his birthday.
 
Last Updated Sep 7, 2023, 12:22 PM IST