Lahore, 1947: Aamir Khan, Sunny Deol, Rajkumar Santoshi unite for cinematic spectacle
Aamir Khan's 'Lahore, 1947' assembles an epic trio of talents in Indian cinema, uniting Aamir Khan, Rajkumar Santoshi, and Sunny Deol for a highly-anticipated production.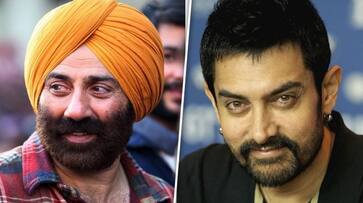 The highly anticipated film 'Lahore, 1947,' produced by Aamir Khan Productions, is set to bring together a remarkable trio of talents in Indian cinema. Aamir Khan, renowned not only for his acting but also for his production prowess, is helming the project. Accompanying him is the accomplished director Rajkumar Santoshi, while the leading role is entrusted to the iconic Sunny Deol. This cinematic collaboration marks the 17th production under Aamir Khan Productions' banner. The prospect of Aamir Khan and Rajkumar Santoshi reuniting after the iconic cult classic, 'Andaz Apna Apna,' adds to the excitement.
Rajkumar Santoshi and Sunny Deol's history of delivering box office hits with films like "Ghayal," "Damini," and "Ghatak" further heightens expectations for their upcoming venture. Sunny Deol's recent blockbuster "Gadar 2," which crossed the 500 Cr mark at the box office, underscores his enduring appeal.
What makes this announcement even more intriguing is the past box-office clashes between Aamir Khan and Sunny Deol, where both emerged victorious. Their historic showdowns include "Dil" vs. "Ghayal" in 1990, "Raja Hindustani" vs. "Ghatak" in 1996, and the epic clash of "Lagaan" vs. "Gadar" in 2001. Now, for the first time, these two cinema legends are joining forces, creating a double bonanza for their fans. 'Lahore, 1947' promises to be a cinematic treat of monumental proportions and a must-watch for Indian cinema enthusiasts. With such a confluence of legendary talent, it's safe to say that audiences are in for a mega treat.
ALSO READ: Chandramukhi 2 on OTT: Netflix or Prime Video or Hotstar? Kangana, Raghava Lawrence film sold to THIS platform
Last Updated Oct 3, 2023, 1:11 PM IST