Koffee With Karan 8: Karan Johar considers not inviting star kids in latest promo; plans guest list
After 8th season announcement, Karan Johar drops new promo for 'Koffee with Karan' featuring 'Konscience' discussing guest list.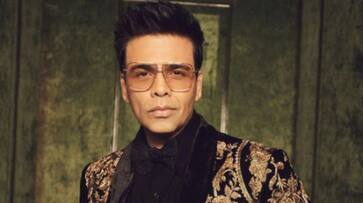 Karan Johar, a renowned figure in Bollywood known for his multifaceted talents as a director, writer, and producer, is famous for extracting candid and entertaining conversations from his guests on his iconic talk show, "Koffee with Karan." The highly anticipated eighth season of this beloved show is on the horizon, and KJo recently unveiled a side-splitting promo. In this promo released on October 9th, Karan engages in a humorous conversation with his imaginary 'Konscience.' Together, they brainstorm ideas for the guest list, even considering inviting some of his adversaries, prompting a witty retort from his 'Konscience' that this season could potentially run until he's 80. Karan Johar also touches upon not inviting star kids this time, to which his 'Konscience' playfully suggests that there might not be a season eight if that's the case. Towards the end of the promo, Karan expresses his desire to bring together single individuals and facilitate their matrimony. However, his 'Konscience' reminds him that he has already played matchmaker for everyone else and humorously points out that he is the only one left single.
Last week, Karan Johar had released an announcement video on social media, teasing the arrival of the eighth season of "Koffee with Karan." In this video, his 'Konscience' pays him a visit, teasingly questioning the quality of the previous season and poking fun at the recurring themes of the show. Koffee With Karan season 8 is set to premiere on October 26th on Disney+ Hotstar. Speaking about the upcoming season, Karan Johar expressed his excitement, stating, "We all know you have been eagerly awaiting the new season of Koffee with Karan - and your wishes have been heard! After the overwhelming response and a lot of conjectures from season 7, this season let's make my friends and your favorite celebrities spill their secrets along with the no-filter conversations on the infamous Koffee couch."
ALSO READ: Akshay Kumar reunites with Shah Rukh Khan, Ajay Devgn for new ad, watch video
Last Updated Oct 9, 2023, 2:28 PM IST