Katrina Kaif's surprise appearance in Hyderabad sparks pregnancy rumors amid 'Tiger 3' hype [WATCH]
Katrina Kaif's recent appearance in Hyderabad for a brand promotion event sparks pregnancy speculations, as she was seen covering her belly, adding to her media absence. She is gearing up for the release of 'Tiger 3' alongside Salman Khan, featuring jaw-dropping stunts and an intriguing cameo by Shah Rukh Khan from 'Pathaan.'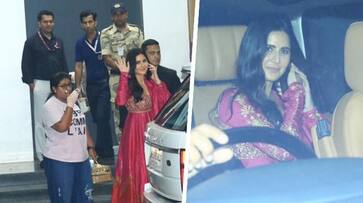 Katrina Kaif, who has been married to Vicky Kaushal for almost two years, made a surprise appearance in Hyderabad for a brand promotion event on Tuesday. The Bollywood star, who had been keeping a low profile in the media, looked stunning in a pink salwar suit. However, some internet users speculated that Katrina might be pregnant, as they noticed her attempting to cover her belly with a dupatta.
Katrina Kaif for a Kalyan event in Patna
byu/Serious_Yak509 inBollyBlindsNGossip
Many netizens believe that Katrina's absence from the spotlight could be due to rumored pregnancy. In a video shared on Reddit, Katrina can be seen greeting her fans as she arrives at the event. At one point, she adjusts her dupatta from the front, which led to fans speculating about a possible baby bump. This video surfaced a few weeks after a source had denied Katrina's pregnancy. Reacting to the Reddit video, one user expressed excitement, saying, "Oh God, if she really is [pregnant], then I'm so thrilled haha." Another user commented, "One hour since the topic was posted, and no one said she is pregnant because she is covering her tummy."
The speculations were further fueled by Katrina's absence from the Ambani family's Ganesh Chaturthi celebration in Mumbai last month. Katrina and Vicky Kaushal tied the knot in December 2021 after dating for two years.
On the work front, Katrina is preparing for the release of "Tiger 3," in which she stars alongside Salman Khan. The film's trailer was recently released, featuring Katrina performing jaw-dropping stunts. However, it was a particular scene in the trailer that left everyone in shock. In the second half of the trailer, Katrina is seen performing a stunt scene while wearing just a towel.
ALSO READ: Anushka Sharma to quit acting post second child? Here's what we know
Directed by Maneesh Sharma and written by Aditya Chopra, "Tiger 3" has fans eagerly awaiting the reunion of Tiger and Zoya on the big screen. Many are also looking forward to a cameo by Shah Rukh Khan's character from "Pathaan," as it has been widely reported that he will appear in "Tiger 3" in a similar way to Salman's cameo in "Pathaan." However, details about Shah Rukh Khan's cameo are still shrouded in secrecy.
Last Updated Oct 18, 2023, 10:48 AM IST