Karan Johar unveils 1st moving look of Alia Bhatt, Vasan Bala's film 'Jigra'
Jigra is a movie that Vasan Bala and Alia Bhatt are working on together. The first poster from the movie was released by Karan Johar.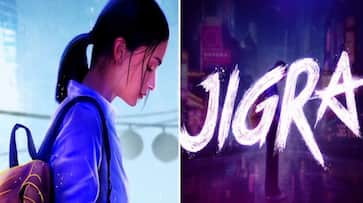 The film starring Alia Bhatt and Vasan Bala's title was revealed by director Karan Johar. The director debuted the first look and revealed the title of Alia's first movie with Vasan Bala on Instagram. A GK Chesterton phrase flashes on the screen to introduce the clip. According to the quotation, "The paradox of courage is that one must be a little careless with life in order to keep it." The next scene in the video shows Alia carrying a bag. She is positioned in what appears to be Japan's streets. "The return of…my #Jigra, @aliaabhatt once again on this exceptional story helmed by @vasanbala. A story of unbreakable love & unshakable courage! JIGRA – in cinemas on 27th September 2024." he captioned it. 
In the background, Alia's voiceover is heard promising what appears to be her younger brother that she won't let anything bad happen to them. The video also made it known that Alia is co-producing the movie alongside Karan Johar in addition to acting in it. It was made public that Alia and Vasan Bala are teaming in July of this year. Vasan Bala is renowned for his distinctive storytelling and unique storylines, a source told Pinkvilla. For Hindi moviegoers, his picture with Alia Bhatt promises to be a novel and revitalising cinematic experience. In this film, Alia will be seen in one of the most difficult roles of her career, and she is eager to embark on this new journey and investigate a genre she has never tried before. People who are aware of this endeavour are already intrigued about Bala's compelling jailbreak story. This movie is going to be really interesting.
Last Updated Sep 26, 2023, 12:27 PM IST