Kangana Ranaut: From being a 'misfit' to turning into a 'remarkable find'
In a fraternity that is filled with crème de la crème of diplomacy, Kangana has truly emerged as the brand ambassador of realness and honesty.
Tracing Kangana Ranaut's inspiring Bollywood journey
Unpretentious, unpredictable and uninhibited – these are the three words that best describe industry's most remarkable find of the decade – Kangana Ranaut!
Her journey in the industry – from being a 'misfit' to a 'remarkable find' has been nothing less than extraordinary. Let's take a look.
Even when she was a child, Kangana refused to conform to the patriarchal and stereotypical norms of the society. When her grandfather brought a toy gun for her cousin and a doll for her, Kangana chose to play with the gun instead. Coming from a small town in Shimla, Kangana was used to hearing, "log kya kahenge?" So it did not come much as a surprise when she was asked to leave the home after she declared her ambition of becoming a Bollywood star.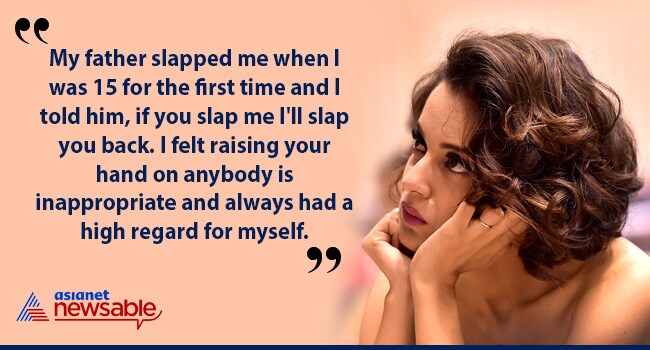 Known for living her life at her own terms, Kangana left her hometown to try her luck in Hindi movies. After running from pillars to posts and auditioning for several roles, Ranaut finally found her dream role in Mahesh Bhatt's 'Gangster'.
Gangster: Kangana was among the few fortunate ones who got a chance to make their debut with the Bhatt camp. Her realistic portrayal of a young, alcoholic girl 'Simran' won her many accolades. Even at such a young age, Kangana got all the nuances of such a difficult and multi-layered character bang on. Her next film, Wo Lamhe, also helped strengthen her foothold in the industry.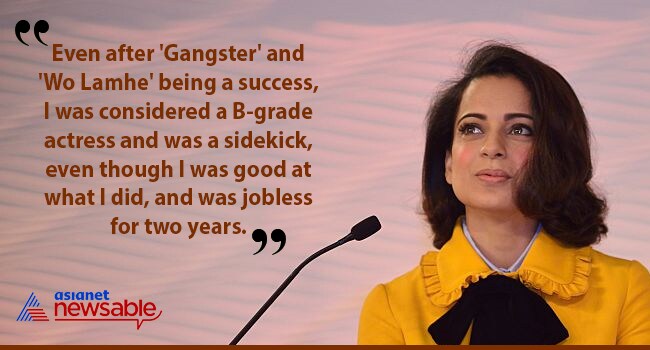 Shakalaka Boom Boom: But right when we were thinking of Kangana turning into an A-lister, lack of good roles and the desire to be on the screen forced Kangana to take up roles where she had nothing to add.
Fashion: A determined Kangana bounced back with a small but award baiting role in Madhur Bhandarkar's Fashion. Kangana's role as a gritty, edgy, cut-throat model was widely appreciated and even won her a National Award. Little did we know back then that this Mandi girl had many more Nationals Awards written in her kitty during her entire illustrious career.
Raaz:  The Mystery: Kangana continued her magic and winning streak at the box office with this film.
No problem, Knock-out: Despite being a top notch actor, Kangana was let down by the entire film fraternity which failed to recognise her acting prowess. A series of trivial, borderline-cheap roles started coming to her and without the presence of a mentor or a godfather in the industry, she kept signing whatever came her way.
Tanu Weds Manu: Kangana's portrayal of 'Tanuja Trivedi' somewhere hit the bull's eye and the film became the biggest hit of her career.
Game, Double Dhamaal, Rascals and Miley Naa Miley Hum: Kangana Ranaut again fell prey to the bad cycle of films and went onto do films which drowned at the box office.
Queen: Vikas Bahl's 'Queen' turned out to be a turning point in her career. With her surprisingly fresh, relaxed and brilliant performance; Kangana proved to the world that she could easily lift the weight of a film entirely on her shoulders. This film also established Kangana as the female 'Khan of Bollywood'.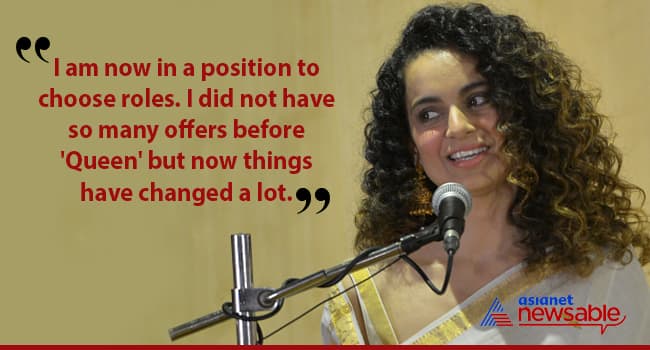 Tanu Weds Manu Returns: This film was a testament to Kangana's undying determination and hope in her acting talent. Her swagger as Tanu and flair as Kusum shines throughout the film. 
Katti Batti: Thought the film garnered mixed reviews, Kangana has reached a level where one or two flops don't affect her star power at all.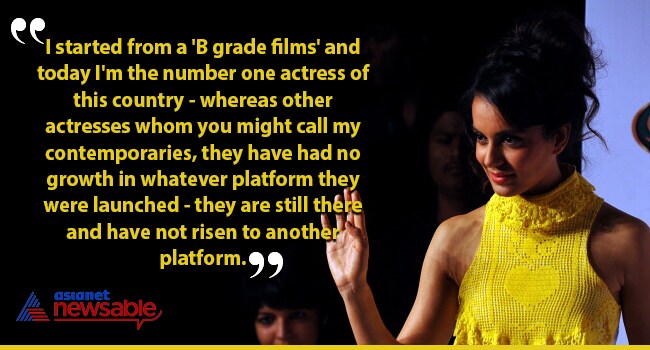 Not just in reel-life, in real life too, Kangana Ranaut is a new personality, a new revelation, a new story; everyday.
Last Updated Mar 31, 2018, 6:39 PM IST